Healthy bodies and minds enhance the educational experience.
Student Health Services is dedicated to helping students with this endeavor and we invite you to use our services.
Available Services
We offer a wide range of services, including:
Evaluations, Exams, and Screenings
Evaluation and treatment of illness and injuries
Physical examinations 

General
Employment
School
Travel
Pre-op
Sports

Preventative health screening 

Annual gynecological exam
Pap test
Medication
Prescription medications 
Over-the-counter medication

Ibuprofen
Acetaminophen
Cough Syrup

Allergy injections

Bring copy of your physician's orders and your allergy serum
You must wait 30 minutes after each injection
Mental Health and Health Promotion
Mental health care

Evaluation
Consultation
Treatment

Health promotion

Health education 
Peer Health Educators
Procedures 
Wart treatment
IV fluids
EKG
Ear wax removal
Peak flow
Nebulizer treatments
Wound care 
Stitches 
Dressing changes
Sexual Health 
Birth control
Self-service condom station
Tests 
STD & HIV
TB skin tests 
Immunizations
Laboratory Services
Our laboratory is accredited by the Centers for Medicaid and Medicare Services Clinical Laboratory Improvement Amendment (CLIA), ensuring that high-quality standards are met. There is a minimal charge for each lab test performed and will be billed to the student's health insurance.  
All lab testing requires a medical order from a health care provider. Call 715-232-1314 if you have questions.
In-house Testing: 
A wide range of medical lab tests are performed in the Student Health Center. Results are generally available at the time of your visit.
Examples of available in-house tests include:
Urinalysis
Strep
Mono
Pregnancy
Complete Blood Count (CBC)
HIV
Reference Lab Testing
The Student Health Center contracts with a reference lab for other testing. Results are generally available within one to three days. Providers will notify you of your lab results.
Example of Reference Tests include:
Pap tests
STD tests
Post vaccination titers
Thyroid tests
Metabolic Panels
Immunizations
Immunization Recommendations
Although UW-Stout does not have a specific immunization requirement, it is important that all students are up to date on their vaccinations. The Advisory Committee on Immunization Practices has made the following immunization recommendations for young adults. Review your student's immunization record and arrange to get any missing vaccinations before coming to campus. Vaccinations are available from your local clinic or health department. More information at CDC

1. Measles, Mumps, Rubella:  
All entering college students born after 1957 should have had 2 doses of this vaccination. The first dose of the MMR given after 1st birthday. 

2. Tetanus-Diphtheria (Td) or Tetanus-Diptheria-Pertussis (Tda): 
After the initial series, a booster is needed every ten years. The most recent booster should be the Tda vaccine, which includes protection against pertussis.

3. Varicella: 
If your student has not had chicken pox as a child, this vaccination is recommended (2 injections 1 month apart).

4. Meningitis: 
Neisseria Meningitides causes a rare but severe and frequently fatal disease call Meningitis. While this disease is no more common in college students than in the general population (about 1 in 100,000 students), it is 5 times more common in freshmen that live in residence halls (1 in 20,000 students). While the risk of contracting this disease is low, it can be rapidly fatal if contracted. This vaccine is recommended if your student will be a freshman living in the residence halls. 

5. Hepatitis B:  
3 shot series required for protection. This vaccine is recommended for all young adults prior to entering college.

6. Hepatitis A: 
Vaccination is recommended for all children, for travelers to certain countries, and for people at high risk of infection with the virus. Two shot series required for protection. The disease is spread primarily through food or water contaminated by stool from an infected person. 

7. Human Papillomavirus (HPV): 
Three shot series vaccine recommended for all women ages 11-26 and men ages 11-21.
Flu Shots
Yearly flu vaccination should begin in September or as soon as vaccine is available and continue throughout the influenza season. Everyone should get the flu vaccine each flu season. It is especially important that anyone with respiratory or other medical conditions that could compromise their ability to fight infection get the flu shot each year. College students at high risk of complications from the flu are students who have asthma, diabetes, certain immunodeficiency, and frequently have contact with a high-risk individual.

Cost and availability information will be made known through the Student Health Services website and email notification.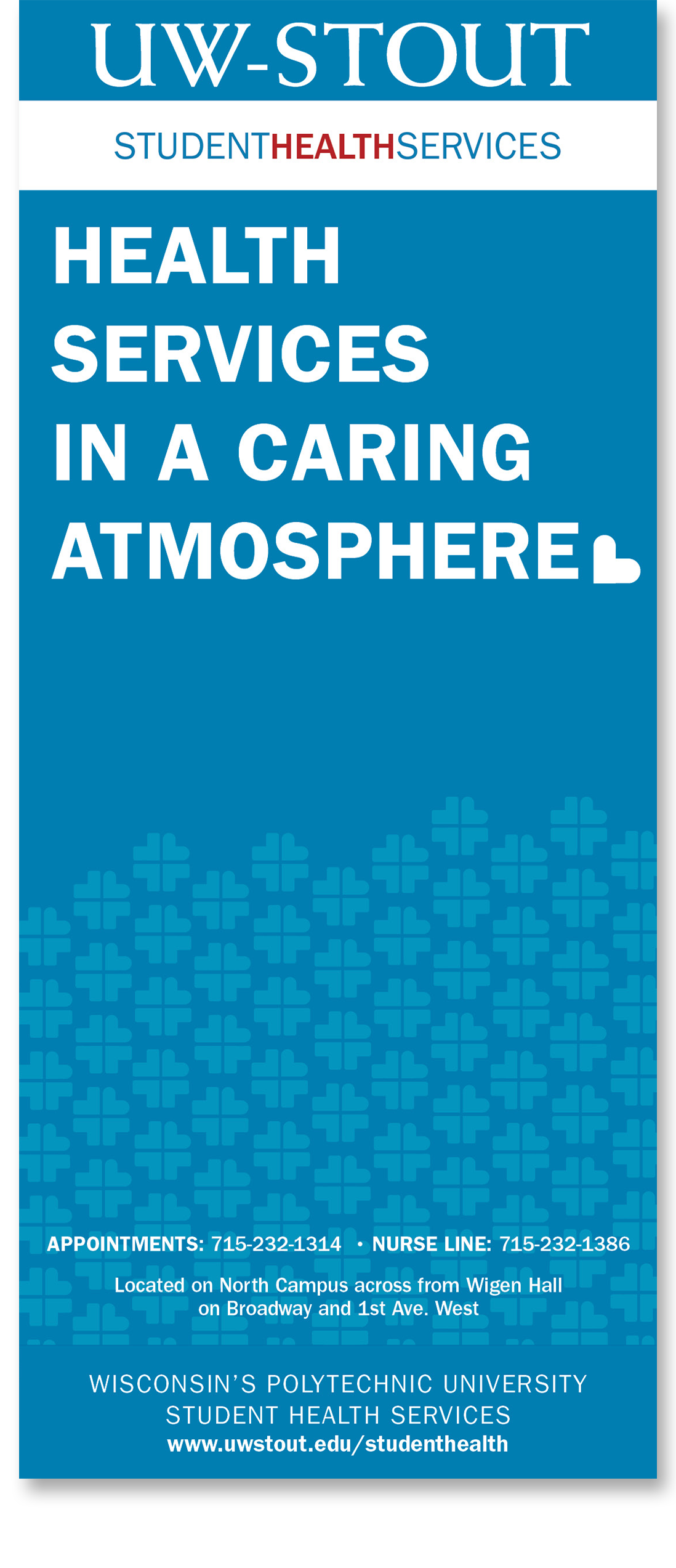 Provided Services
Download our brochure to receive an overview of our available services, laboratory tests, and exam prices.