Renee Murphy believes in asking questions and making sure she understands the material.
That served the Dec. 19 University of Wisconsin-Stout rehabilitation services graduate well.
Murphy ended her college career with a 4.0-grade point average, meaning she earned straight As, and the Tinley Park, Ill., native earned her degree in 3½ years.
"I ask questions," she said. "I don't hold back because I know it will help me in the long run. I put a lot of time into studying. I like to understand all the material before I take a test."
This is not the first time Murphy has graduated with a perfect grade point average. She also graduated from high school with a 4.0 average.
Murphy has applied to graduate school to become an occupational therapist, a career she became interested in while in high school where she was a peer helper and  was paired with another student in an adaptive gym class.
Occupational therapists help people to adapt their daily activities so they can live the best life possible, Murphy said. "It just makes such a huge impact in someone's life to change little things so they have a better experience, or the use of adaptive equipment can change their whole day."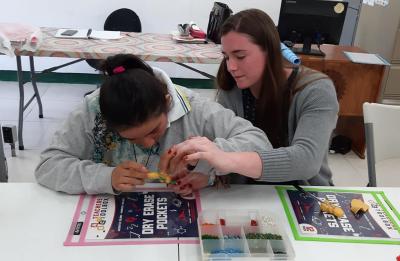 Murphy chose rehabilitation services for its versatility as a major. "It is versatile because I focused on anatomy/biology classes along with mental health/counseling," she said. "This has helped me to see the different areas of health care that will be important for occupations therapy."
Dr. Alexandria Hall taught Murphy in an advanced human anatomy class last spring. "Renee is a mature, thoughtful, disciplined student who has a wonderful way of relating to people," Hall said. "She is really skilled at bringing people together and honoring everyone's contributions. She gives everything 100%. Her work was always impeccable. I was so thrilled with her performance in the class that I asked her to be the tutor for this fall.
"Renee will be an incredible occupational therapist. Her compassion, work ethic and dedication to serving others and doing her job well will make a huge, positive difference in the lives of her clients. I'm so excited to see what she will accomplish," Hall said.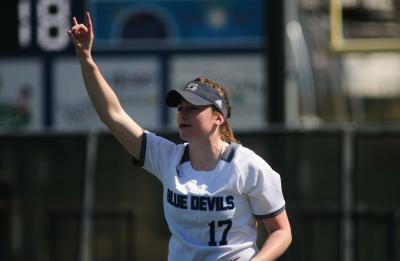 While at UW-Stout, Murphy took part in two internships. The first was at Foundations Therapy in Menomonie in the summer of 2019. She assisted with physical, speech and occupational therapy. "I got to see firsthand what therapy services are like," she said, noting she enjoyed working with the pediatric services.
She also completed an internship at Rolling Hills Equine in Knapp, last summer working with a client to improve social skills and community outreach. She learned care management and the importance of focusing on client goals.
She also chose UW-Stout for its size, learning about the school when softball coach Becky Iaccino came to her high school, Lincoln-Way East, to recruit. "I looked into UW-Stout and I just loved it," Murphy said. "The size was perfect. The class sizes were not that large. Over the years I have had a real relationship with all my professors and if you have questions, they answer them, which has definitely been a part of my success."
Murphy, who has a twin brother, Ryan, played third base for the softball team for 2½ years at UW-Stout including a stint as captain. Her senior season was canceled last spring because of the COVID-19 coronavirus. "It was a bummer," Murphy said. "You worked so hard for the upcoming season and you weren't able to show that."
The team was able to play one winter tournament and was set to go to spring training in Florida when the season was called off.
While at UW-Stout, Murphy also took part in the study abroad program twice. She took a one-week program her sophomore year to Toronto, Ontario, as part of a class called Diversity of Religion in the Workplace.
In January 2020 she traveled to San Miguel de Cozumel, Mexico, for three weeks over Winterm and worked in a special education school. "I was able to teach in Spanish," she said, noting that is her minor. "It just opens your eyes. It's important to take what you learn in class and go out and do it. It made me realize how fortunate we are to have certain materials. There were classrooms with one book for 12 kids and no pencils."
While there she was able to go into a local rehabilitation center and meet professionals, learning how they do their jobs.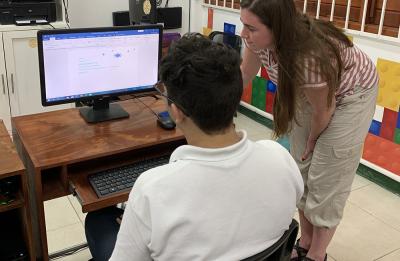 Theresa Kohlmeier, an assistant professor in early childhood education, led the trip to Mexico. Kohlmeier described Murphy as an outstanding student and recommended her to graduate schools.
"She is professional, works well with others and genuinely accepts feedback," Kohlmeier said. "Her professionalism has grown with her work and volunteer experiences. Renee's leadership on the UW Stout softball team demonstrated to her teammates and coaches that she is a positive role model. While Renee worked with families and individuals who were seeking treatment at the Centro de Rehabilitación in Cozumel, Mexico, she was alongside professionals and sought out the resources and opportunities to use her Spanish speaking skills.
"What I enjoy most is watching her work with people, young and old," Kohlmeier added. "She has a wonderful spirit and is creative in her instructional and intervention strategies."