The ceramics concentration of the studio art program at University of Wisconsin-Stout has been in the spotlight this fall, with a professor and two alumni earning special recognitions.
Professor Kate Maury had one of her creations chosen for a recent Chicago exhibit, and graduates have realized success with a national grant and a promotion.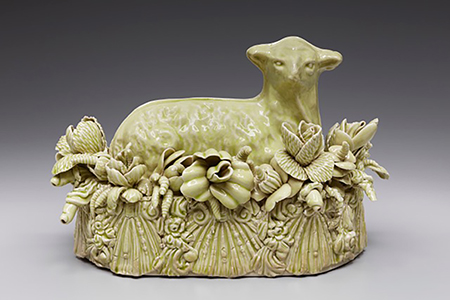 A butter dish created by Maury was chosen to be in the SOFA — Sculptural Objects Functional Art and Design — exhibit at Navy Pier in Chicago. The dish features a lamb nestled in a floral scene and is patterned after a vintage butter dish.
The dish already was in the permanent collection of the International Museum of Dinnerware Design in Ann Arbor, Mich.
Maury, who has a Master of Fine Arts from New York State College of Ceramics at Alfred University, is also a board member at the Northern Clay Center in Minneapolis. Her work has appeared in regional, national and international shows and has been published in numerous books.
Successful alumni
Alumnus Ryan Greenheck has received a $10,000 grant from Studio Potter, a national ceramics organization, to support a program he developed to mentor young artists in his studio in Philadelphia.
He was one of four people to receive the grant.
Greenheck, originally from Spring Green, earned a bachelor's degree in studio art in 2001 and a bachelor's in art education in 2002 from UW-Stout. He taught for 11 years at the University of Pennsylvania before opening his studio, Ryan J. Greenheck, more than a year ago.
He also works with UW-Stout students when he exhibits annually at the St. Croix Valley Pottery Tour.
"His successful business model and organization of regional artists' tours have been acknowledged through this grant. He strives to make the next generation of makers successful in their business practices," Maury said.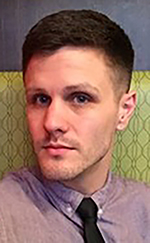 Alumnus Kyle Rudy-Kohlhepp, recently was promoted at the Northern Clay Center in Minneapolis to deputy director of operations and director of learning and artist services.
He graduated from UW-Stout in 2011 in studio art. He also graduated from the Perpich Center for Arts Education in Golden Valley, Minn.
Another alumnus, Dane Hodges, is one of the selected artists at the Northern Clay Center's holiday sale through Monday, Dec. 30. Hodges, an art teacher at Columbia Heights High School in Columbia Heights, Minn., earned studio art and art education degrees from UW-Stout in 2013.
"These students graduated with a strong foundation from which to build a dynamic art practice. Their success says a lot about the entire School of Art and Design faculty and staff," Maury said.
UW-Stout's School of Art and Design offers six undergraduate programs and a Master of Fine Arts in design.
###
Photos
UW-Stout Professor Kate Maury's butter dish was featured in an exhibit at Navy Pier in Chicago.
Alumnus Ryan Greenheck works in his studio in Philadelphia. He recently received a $10,000 national grant.
Kyle Rudy-Kohlhepp