A University of Wisconsin-Stout recent master's degree graduate in design believes thriving senior living communities are the sustainable answer to empty shopping malls.
Nicolette Brehm of Menomonie did her creative thesis using parts of the Oakwood Mall on Golf Road in Eau Claire for her research entitled "From Vacant Shopping Malls to Thriving Senior Living Communities."  About 400 shopping malls are vacant or partially vacant in the U.S., with just over a 10% vacancy rate in the first quarter of 2019, according to research Brehm did. The population over age 65 is continuing to grow, doubling by 2050, increasing the need for independent, assisted and skilled nursing care.
"The building is already there," Brehm noted of existing malls, including Shops Off Broadway in Menomonie. "You don't have to build a new building, although there are parts that would have to be demolished. Through my research, I did not find any project that took existing shopping space and turned it into senior living."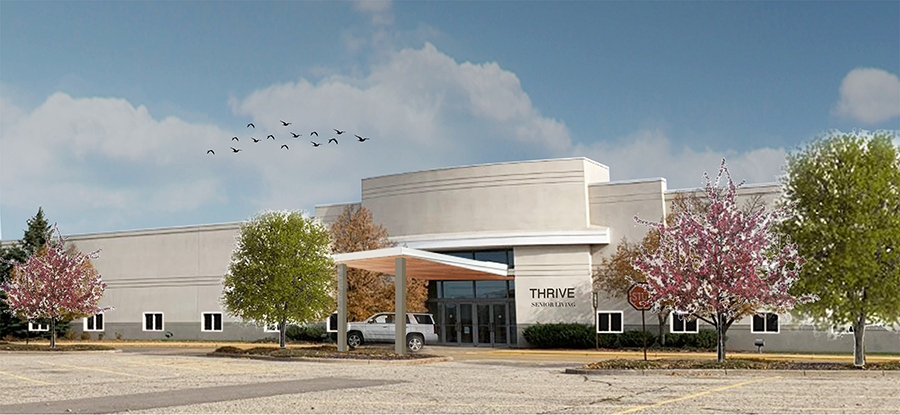 Existing shops in malls would benefit from customers living there, and specialty businesses would evolve to serve the nearby clients, Brehm said. "There are social benefits having stores," Brehm said. "People can feel independent going to the coffee shop or gift whop without having to leave the space."
The shops and courtyard would provide a walking space, Brehm noted. "People already go to shopping malls to walk around," she noted. "Studies are showing staying active is good for the physical and mental wellbeing of residents and it creates a social hub."
Brehm looked at two specific sites in Oakwood Mall, including the former Sears site and what was Younkers.
"One of the biggest things I discovered was a courtyard would be necessary so windows could be acquired for resident units," Brehm said.
Her plan looked at about 96 skilled nursing rooms in the Sears site and about 88 assisted living and independent units at the Younkers site.
Skilled nursing would have different neighborhoods of about sixteen residents with a kitchen and dining space. Each room would have a private bathroom. There would be common areas for care as well as home-like elements including a fireplace and bookshelves. "The goal is to make it feel more like a home and not like an institution," said Brehm, who is married to husband, Coltin, and has one child.
Assisted and independent living would have a studio, one-bedroom and two-bedroom options and a bedroom with a den option. There would be a full kitchen in the independent living apartments, a large kitchenette in the assisted living apartments and a handicapped-accessible bathroom.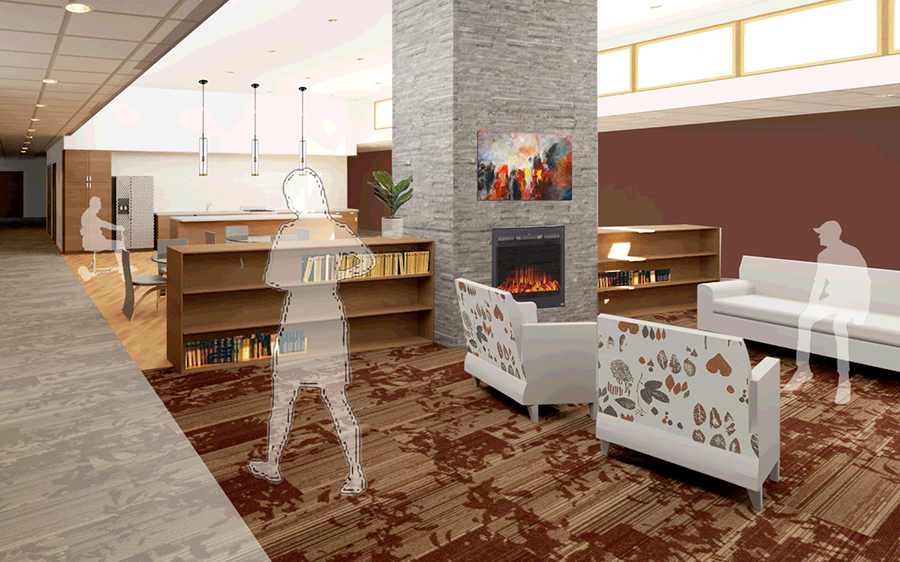 The approximate cost of remodeling the mall stores to living space would be about $150 a square foot based on current renovation costs in the area, Brehm said. This means to renovate the two sites would be about $32.4 million. New construction for the same 116,000-square-feet would cost about $197 a square foot or about $42.7 million.
"It is less to renovate," Brehm said, who graduate from UW-Stout in 2012 with a bachelor's degree in fine arts with a concentration in interior design. "There is no need to construct a town center space because it is already there. There is already a coffee shop, restaurant and stores there."
Julie Peterson, professor in the Master of Fine Arts in design graduate program in the School of Art and Design and Brehm's adviser, said Brehm's research is at an opportune time.
"This is a very timely project, especially in Dunn and Eau Claire counties, with the rise of vacant and underutilized malls and buildings," Peterson said. "The Master of Fine Arts in design provides the opportunity for students to deeply explore projects related to social and sustainable design issues, such as Nicolette did with her creative thesis project."
Brehm, who works full time as an interior designer for an architectural firm in St. Paul, plans to publish her creative thesis work in academic journals and to share it with developers. "I would love to see it actually happen," she noted.
Photos
Brehm created an artistic rendering of the exterior of a senior living center using the Oakwood Mall building in Eau Claire.
Brehm's artistic rendering of an interior of a senior living center at Oakwood Mall.