Dystopian novels cast images in our imaginations of bleak cityscapes smothered by smoggy skies; freedoms stifled by looming, faceless government powers; a fear of loss of individuality – our unique qualities swallowed by conformity.
This spring, UW-Stout's Literature Committee is hosting its annual Reading Across Campus, a series of free virtual events open to the public.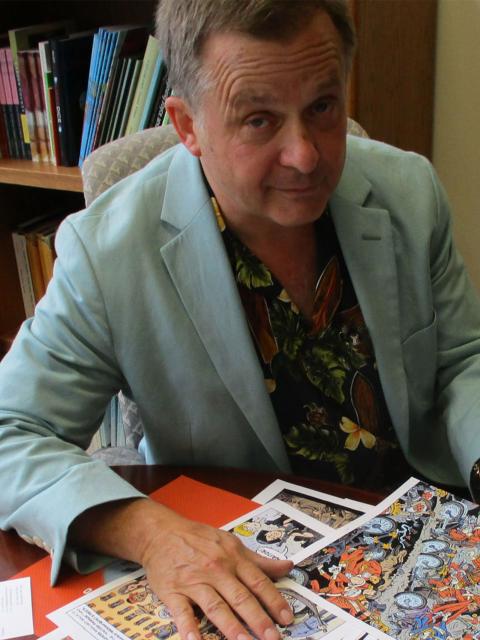 As part of the series, Ken Avidor, author of "Bicyclopolis: A Tale of Human-Powered Time Travel," will have a virtual reading and discussion at 7 p.m. on Tuesday, April 6. Earlier this semester, Reading Across Campus delved into George Orwell's iconic dystopian novel "1984."
Lopa Basu, professor of English and philosophy and co-chair of the Literature Committee, has written scholarly essays on graphic novels that explore historical and traumatic events. She was delighted to discover Avidor's work.
"I loved reading 'Bicyclopolis' and was struck how it resonated with '1984,' consciously or unconsciously. I am planning to share the graphic novel with my first-year composition students. Its themes of environmentalism will move many students," she said.
"Bicyclopolis," published by Y.I.L. Editions in Paris, was printed in limited edition by Bookmobile in Minneapolis. Avidor has shared a digital copy of the graphic novel, which is available on the Literary Committee site and through the virtual meeting. A hard copy will soon be available in the graphic novel and comics section in the University Library.
Bicyclopolis, an ecological oasis in danger
When the Literature Committee found they had the capacity for one more event, committee member Mitch Ogden, professional communication and emerging media program director, set out to find a story with a regional connection. In just forty minutes of searching, he found seven dystopic novels connected to the Midwest, either through the author's home or the story's setting.
"There is a whole gamut – from professional literary culture to Midwestern folks just wanting to tell a story. It totally floored me that there were so many choices. It's a genre that's growing a lot faster than I realized," Ogden said.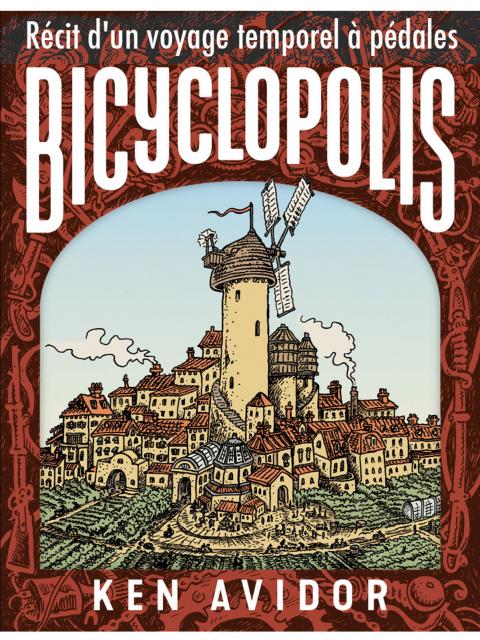 Inspired by the science fiction writings of H.G. Wells, in particular "The Time Machine," Avidor created his own time travel story, encased in the dismal dystopian genre and visually appealing realm of the graphic novel.
"Bicyclopolis" begins in present-day Stillwater, Minn., and follows the journey of Dan, who pedals 70 years into the future using a "Velochronitron," a human-powered, time travel device.
War and climate change have wreaked havoc on the Earth and resources are scarce in the post-industrial world. Dan finds the once farmed and forested Upper Midwest has been transformed into a wasteland.
"That wholesome, unflashy middle-America, with its symbols of suburbia and places like the Mall of America and the Northwoods are perfect for the dystopic imagination," Ogden said.
"Finding refuge within an ecological oasis, Bicyclopolis, Dan learns that the future of Bicyclopolis is threatened by forces outside and within its walls," Avidor said. "Only he has the ability to save the city and perhaps all of humanity."
Within the dystopian genre, "Bicyclopolis" stands out. Not just because it is a graphic novel, but also because, unlike most works of science fiction, the science that informs "Bicyclopolis" is ecological.
"There are no high-powered gadgets, space travel or superheroes," Avidor said. "And as far as I know, it is the only dystopian, post-industrial, neo-Luddite, time travel, graphic novel that takes place in the Twin Cities."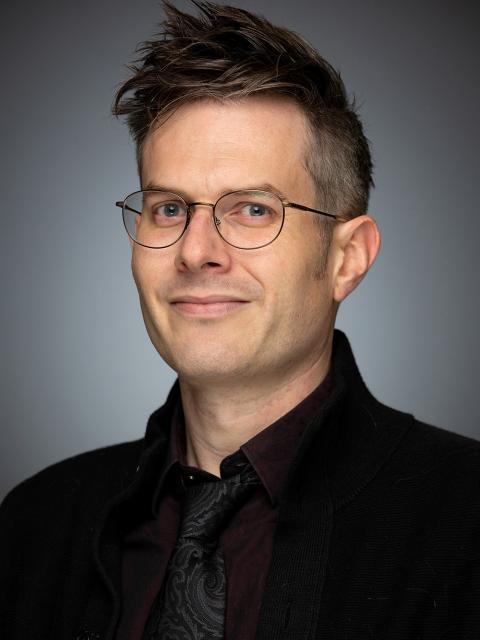 Master's in design Program Director and associate professor Erik Evensen is a graphic novelist. His books include "Gods of Asgard" and "The Beast of Wolfe's Bay." He has illustrated for IDW's "Ghostbusters" and "Back to the Future" comic series.
"Speculative fiction stories such as 'Bicyclopolis' allow people to discuss emotionally difficult or politically dangerous topics, in the safety of a fantastic setting. These types of stories hold a mirror to the audience and often ask them to confront uncomfortable ideas," Evensen said.
Inspiration in art and ruin
As a child in the Cold War era, Avidor remembers atomic drills in grade school – having to "duck and cover" under his desk. "I remember being terrified by the notion I could die in a nuclear fireball at any moment," he said.
His "dreadful obsession with nuclear annihilation" was fueled by books and movies like "1984" and Nevil Shute's "On the Beach."
"'1984' helped transform my outlook and imagination. I was a very strange and gloomy kid," Avidor said.
When developing "Bicyclopolis," Avidor studied traditional artwork. Giovanni Battista Piranesi's etchings of Roman ruins inspired his designs for the suburban Twin Cities' ruins.
But Avidor was mainly influenced by French "dessinateurs," designers or cartoonists.
"In other countries such as France, the graphic novel is considered an art form. 'Bande dessinée,' or comic strips, are equal to other high art forms," Avidor explained. "A graphic novel combines literature and drawing to create a hybrid that is unique in much the same way that opera combines theater and music.
"In France, where 'Bicyclopolis' was published, adults read 'bande dessinée,' and there seems to be no limit to the manner or scope of subject or style. I wish we in the U.S. had more freedom to explore new subjects and styles outside rigid genres such as superhero comics," he added.
Avidor creates films using his sketches and can be found on filmfreeway.com. "Bicyclopolis" is his first graphic novel. At the surface of the story lay the challenges Avidor sees people facing in the future. He believes these challenges will be different than anything in human history.
"Scientists say we will be faced with increasing climate uncertainty, resource depletion, pollution and a growing population. Technology won't save humanity," he said. "I hope that readers will find that their own imagination, resourcefulness and hard work hold the key to adapting compassionately to the future."
Reading Across Campus is made possible by a grant from the Office of the Chancellor. The program is a collaboration between the English and philosophy department, the University Library and Menard Center for the Study of Institutions and Innovation.