One in six Americans or roughly 48 million every year get sick from foodborne illnesses, according to the Centers for Disease Control and Prevention. Of those who become ill 128,000 are hospitalized and 3,000 die.
"It is important to detect pathogens to provide safe food and water and to prevent cross-contamination of foodborne diseases," said Taejo Kim, University of Wisconsin-Stout assistant professor in the department of food and nutrition.
Kim recently taught the Furthering Food Safety Workshop at the university. "Food safety workshop training is a win-win situation, protecting both the processors and consumers," he said.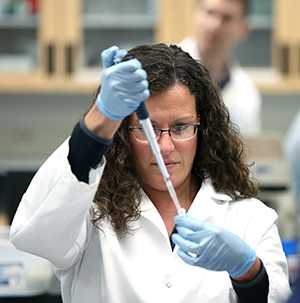 The workshop, May 22-24, was aimed at small- to medium-size businesses to learn easy, rapid microbiological techniques for isolating and enumerating microorganisms of public health concern such as listeria, salmonella, E. coli and vibrio.
Along with Kim, who manages food microbiology labs and teaches food science courses including food microbiology and quality at UW-Stout, the workshop was led by Josiah Ray, lab manager for the biology and chemistry/physics departments at UW-Stout.
Those attending also learned how to test water quality using filtration methods. The workshop is planned again Tuesday, July 17, to Thursday, July 19. For more information visit www.uwstout.edu/outreach-engagement/lifelong-learning/business-industry/furthering-food-safety-workshop.
Bill Rufenacht, who works in technical sales and service at Dairy Connection in Madison, was one of eight participants in the workshop. Rufenacht, who has a bacteriology degree from UW-Madison, said he learned a lot about lab techniques and the newer rapid testing methods, which did not exist when he was in school.
Dairy Connection supplies ingredients to specialty, farmstead and small- to midsize-cheese and fermented milk manufacturers nationwide, according to the company's website.
"Dairy Connection serves a number of 'farmstead' and 'artisan' cheese and yogurt makers around the country," Rufenacht said. "We supply them with starter cultures and coagulants and offer technical service regarding using those products in their processes. Our owner feels it is important for us to support these manufacturers. Many of them are smaller, sometimes only one- or two-person operations. As such they have a difficult time keeping abreast of the latest methods and practices which affect our industry.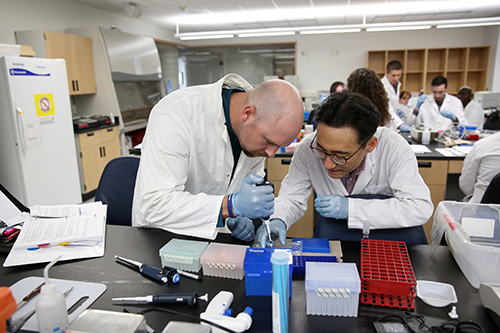 "The dairy industry is a seven-day-a-week, 365-day-a-year proposition, so it is difficult for people at a plant level to get away for more than a day. Because of that, we act as a resource for plants that may be processing hundreds of thousands of pounds a milk a day. Food safety is critically important to any entity manufacturing food. Part of our company's mission is to act as a resource for our customers that may need assistance keeping up to speed in these areas."
Rufenacht said he was impressed by the amount of material covered in the course.
"There were only eight individuals taking the course, which meant a good amount of one-on-one time with Dr. Kim," Rufenacht said. "He is clearly a very bright man with a passion for what he's doing and teaching. The course was promoted as being appropriate for those with no formal training in microbiology. I thought we covered more material at a greater depth than I would have expected, which was great for me. The course was pretty intense from beginning to end."
In addition to Dairy Connection, employees from Eau Galle Cheese and BelGioioso Cheese in Green Bay attended the workshop.
UW-Stout's Discovery Center and the departments of food and nutrition and biology initiated the workshop to leverage the school's resources and help business and industry. "I believe there will be increased collaboration with food processors and expect to further the reputation of Wisconsin's Polytechnic University and increase the economic benefits to UW-Stout," Kim said.
###
Photos
Eight cheese and dairy company officials learned easy, rapid microbiological techniques for isolating and enumerating microorganisms of public health concern such as listeria, salmonella, E. coli and vibrio./UW-Stout photos by Brett T. Roseman.
Taejo Kim said food safety protects both processors and consumers. The workshop is planned again in July.