A University of Wisconsin-Stout student and member of the Blue Devil football team has been named a semifinalist for a prestigious national award.
Aaron Wisecup, a senior from Monticello, Minn., is one of 185 players in the running for the William V. Campbell Trophy, which recognizes the nation's best scholar athlete in football. Up to 14 of the semifinalists also will receive the National Football Foundation National Scholar-Athlete Award.
The awards will be announced Tuesday, Dec. 10, in New York.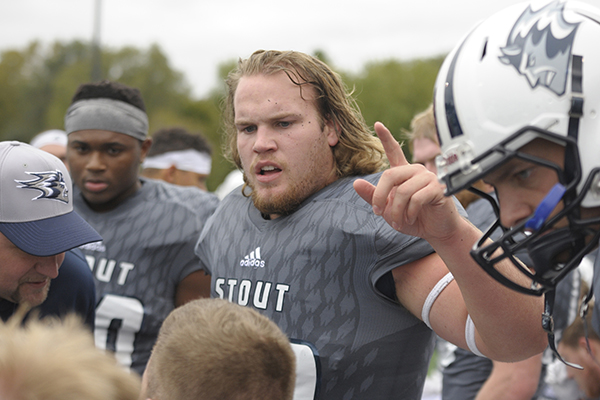 Wisecup is majoring in early childhood education. He is a defensive lineman for the Blue Devils, who play UW-Oshkosh at 2 p.m. Saturday, Oct. 5, for homecoming.
Two other football players from the Wisconsin Intercollegiate Athletic Conference were nominated, Alex Wipperfurth of UW-Oshkosh and Matt Anderson of UW-Whitewater.
Wisecup has a 3.5 grade-point average and is a six-time recipient of the Chancellor's Award for Academic Excellence. He was a 2018 All-WIAC honorable mention selection after leading the team in tackles for loss with 9.5 and 3.5 sacks.
Wisecup also has been active on the UW-Stout campus and within the Menomonie community. He has served as president of the Men in Education organization and has volunteered for Thursday's Table to Our Savior's Lutheran Church, special needs Super Bowl party and at the Oaks Senior Living Home. In addition, he has worked with Menomonie area Special Olympics and participated annually in the Polar Plunge to raise money for charity.

"Aaron understands the DIII model and gets involved with many things here on campus," UW-Stout football coach Clayt Birmingham said. "He is the first to volunteer for the many opportunities to serve our community and campus. He understands the big picture of getting involved and helping others, all while carrying a good GPA."

The Campbell award is named for the late Bill Campbell, former chairman of Intuit, former player and head coach at Columbia University.
"These 185 impressive candidates truly represent the scholar-athlete ideal," said NFF Chairman Archie Manning, whose sons Peyton, a Campbell Trophy winner, and Eli were named NFF National Scholar-Athletes in 1997 and 2003, respectively. "This year's semifinalists further illustrate the power of our great sport in developing the next generation of influential leaders."
###
Photo
Aaron Wisecup, a semifinalist for a national student athlete award, talks with teammates during a 2018 UW-Stout football game.
###