When he was a junior at Pulaski (Wis.) High School, Aaron Saari knew that he wanted a career in the golf industry. It's why he went to UW-Stout for the golf enterprise management program.
Five years after earning his bachelor's degree, Saari is the first assistant professional at one of Wisconsin's most prestigious courses, SentryWorld in Stevens Point. He helps manage day-to-day operations of the national top 50 public facility, gives lessons and is a certified club-fitter. "I love what I do. I wouldn't do anything differently," he said.
The week of June 26 to July 2, Saari will be doing something different — but gladly. SentryWorld is hosting the U.S. Senior Open. The televised event, which features the world's best male golfers 50 and older, will bring national attention to the course and Wisconsin.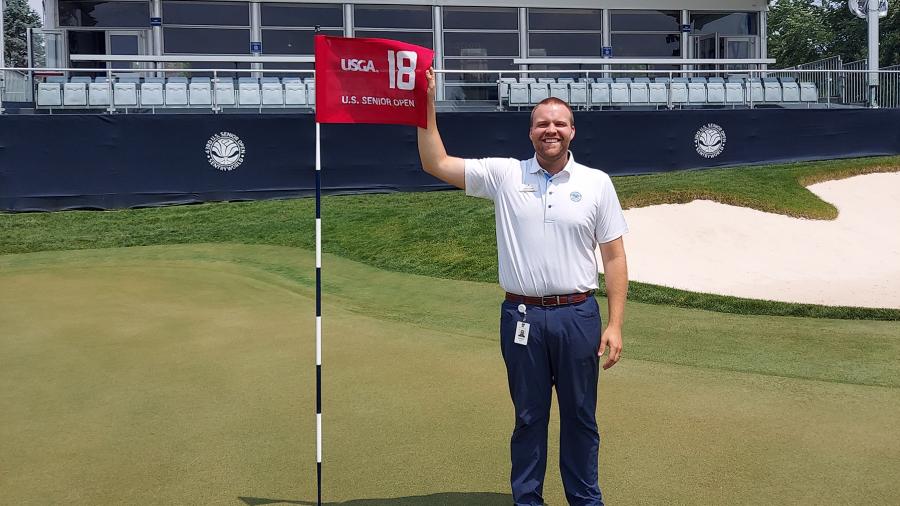 "I don't know if I'll even sleep this week," said Saari, only half in jest because he'll be in charge of the main merchandise tent that tens of thousands of fans will visit during practice rounds early in the week and four tournament rounds beginning Thursday, June 29.
He has worked for about four months to help order inventory for hundreds of logo-emblazoned products, set up the point-of-sale system and coordinate third party vendors. During tournament week, he'll manage more than 100 volunteers working at the tent and be in charge of managing inventory.
The 43rd annual event is run by the United States Golf Association, which has had a full-time staff member on site for two years, but SentryWorld — owned by Sentry Insurance with its headquarters next door — supports tournament operations along with about 2,000 volunteers.
Having a chance to be part of a national tournament is a perk of working at a course like SentryWorld. The event will feature well-known pros such as Steve Stricker of Wisconsin, major champions Davis Love III, Ernie Els and many others from around the U.S. and world,
Yet, being part of the golf industry at the most prestigious levels is what Saari expected all along from his UW-Stout degree. Graduates of the program work in management at other top facilities around the state and country in a variety of capacities.
Saari happened to be most interested in a career track of becoming a PGA — Professional Golfers Association of America — golf pro. "It fit all my skillsets," he said, and he began pursuing that career track while still in college by passing his PGA playing test.
He fell in love with the profession while working in high school at Oneida Golf and Country Club in Green Bay, including meeting some famous Packers. After college, he began his career at the Milwaukee Country Club, another top national course, then the Wausau Country Club before moving to SentryWorld in 2020. He has become a Class A PGA professional, the organization's highest certification.
"I love the operations side of things. It just fits. I don't like to do the same thing every day," Saari said.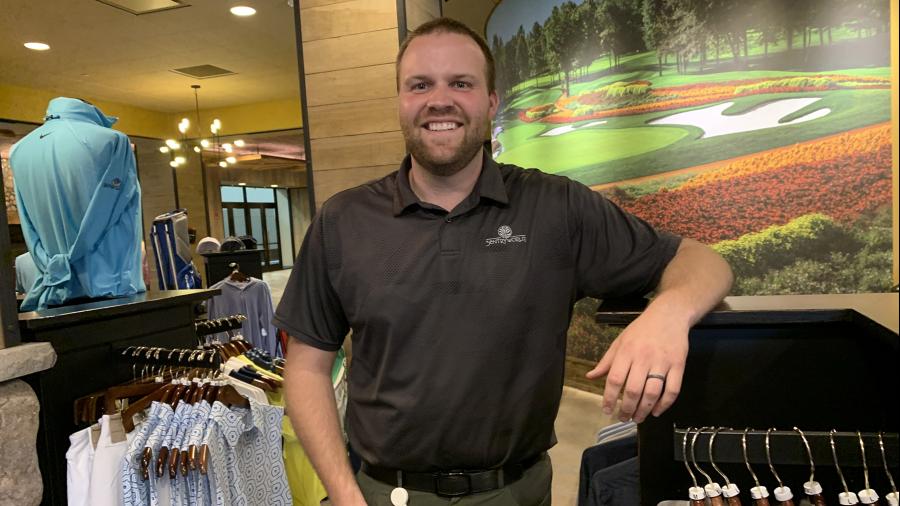 He appreciates how UW-Stout's GEM program and the university's world-ranked hospitality program intertwine some courses to give graduates a broad perspective of the industry. SentryWorld has a restaurant and features the Inn at SentryWorld, a 64-room boutique hotel.
Golf, after all, is a service and hospitality industry. "So much of what we do here isn't strictly about golf," Saari said.
For example, he oversees outside staff and caddies, those who often are the first and last people at the course to interact with golfers. SentryWorld, welcoming golfers from around the globe, has gone to an all-inclusive fee of $300, which includes the practice facilities, 18 holes, and food and beverages for the round.
The course was closed all spring leading up to tournament week. After the tournament, tee times have been in high demand the rest of the season, Saari said.
Saari particularly enjoys working one on one with golfers, giving lessons and club fitting. He is a certified club-fitter for the Callaway and TaylorMade brands. He loves seeing a golfer improve their game after getting fit for the right size and type of clubs, based on analysis from a high-tech indoor golf simulator.
"We can change their shaft, club loft and lie and other equipment to help optimize distance, accuracy, spin and control of their shots," Saari said. "I love to see how well they play and see their reaction when they come back in after a club fitting."
SentryWorld has been one of Wisconsin's premier courses since 1982, when the grand opening featured an exhibition with legendary Arnold Palmer. Many holes are defined by ponds, wetlands and streams, and No. 16 is the Flower Hole, which is surrounded by 30,000 flowering plants.
GEM and golf in Wisconsin
Golf boosts Wisconsin's economy by $2.4 billion a year. The state golf industry is projected to need 11% more workers in the next five years and nearly 17% more over the next decade.
The golf enterprise management program is designed to meet that demand with graduates ready to step into management positions across the industry. The program is based in UW-Stout's Heritage Hall, which is on track for a major renovation.
Hospitality professors to present research on what makes a great golf experience
Continue Reading
GEM is the only program of its kind in the UW System. It's endorsed by the National Golf Course Owners Association and works with the Golf Course Owners of Wisconsin.
"The GEM degree fills the missing void in the golf industry, where we first and foremost understand and manage the business side of the golf course," said Professor Kris Schoonover, GEM director.
"The program is a leader in advancing the game because we understand that it's changing and why, and we produce quality, smart professionals to lead change," added Schoonover, who also is director of operations at Erin Hills, which hosted the 2017 men's U.S. Open and will host the 2025 U.S. Women's Open.
Schoonover plans to attend the U.S. Senior Open.
The employment rate of recent program graduates was 100%, according to the university's 2022 First Destination report. Across all majors, UW-Stout's employment and continuing education rate for graduates was 99.4%, best in the UW System.
###