A Q&A with one of the 750 students who received a diploma Dec. 14 at UW-Stout:
Name: Erin Garney
Hometown: Elk Mound
Major: Information and communication technologies; minor in computer networking system and design
Awards, honors: Chancellor's award, Leadership Eau Claire Graduate, 2019 Chippewa Valley Technical College Outstanding Alumni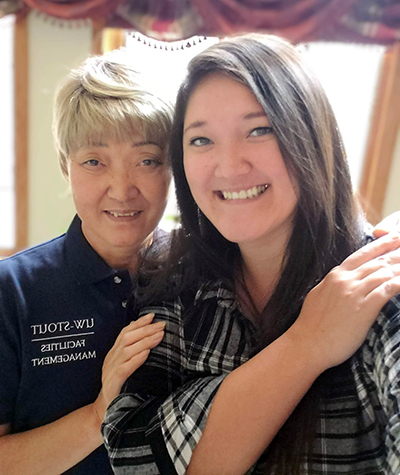 Why did you choose UW-Stout? I chose UW-Stout because it offered a variety of options to take credits from my associate degree to get a bachelor's degree. The customized instruction route offered me the flexibility to get a university degree that was held in high reputation, while working and raising two children. My mom (Pyong Garney), who works at Stout, has always sung the school's praises, and I thought this would be a unique opportunity to highlight the relationship between a grad and a UW-Stout employee. I know my mother is just tickled pink that I decided to get a degree from UW-Stout.
What are the biggest obstacles you faced in earning your degree? Being able to translate educational knowledge into real knowledge. Having worked in the IT industry for almost a decade, sometimes it was a struggle to take the educational application and translate it into something that would occur in reality. Also trying to learn new things online was difficult at times. Even though I am used to rapidly learning online, I did struggle with some of the courses that were really outside of my area.
What stands out among your college experiences? It was the interaction with my advisers and some of my instructors. Being a customized instruction student, I didn't think that I would really get to know any of my instructors or advisers outside of their names, but I found I was wrong.
What's next? Not sure yet. I decided to get my bachelor's degree to mostly fulfill a personal goal. I don't have a specific job in mind, or company in mind that my degree will open the doors to. I just want to be prepared for whatever comes next. I am working as a networking systems shift manager at WIN Technology in Eau Claire, and I teach adjunct at CVTC in their IT network specialist program.
###