The winning team members at this year's University of Wisconsin-Stout Recipe for Excellence competition Thursday, Feb. 14, brought a little bit of Luck with them, literally.
Luck High School juniors Rose King and Mckenna Delany used locally produced pork and maple syrup in their maple and balsamic glazed pork chop dish. It included a side of brown butter sweet potatoes topped with apple compote and a salad of toasted almond and cranberry couscous spread.
The win garnered a gold medal, a trophy for their school and a $500 scholarship to UW-Stout for both Delany and King.
"We never expected it," said Delany, dressed in a red uniform that matched King. "It was the first time we've competed. We just came out to have fun. We really learned teamwork and to rely on one another."
A total of  24 high school students, in teams of two, brought their cooking skills and recipes for pork to the competition, which was like the Food Network's "Iron Chef" television cooking show. Students had 60 minutes to prepare two identical pork entrees and side dishes on butane burners. A panel of judges taste-tested each of the dishes, and the other was put on display. Teams were also judged on menu design, cost analysis, safety and sanitation, presentation and fundamental coming techniques.
Meg Jenny, who graduated from UW-Stout in December with a degree in family and consumer sciences education, coached the Luck team. "This is a good experience for them," Jenny said. "They are so interested in culinary experiences. It's a challenge for them."
Because it was Valentine's Day, Delany and King wanted to include ingredients from the community of Luck, a place they love, Jenny said.
One of the greatest challenges they faced was only having two burners during the competition. They usually cook with four, King said. Neither felt all that nervous until there was only a minute left and they were rushing to finish plating the food.
The judges noted they liked the use of color in the dish and the number of ingredients.
As competitors chopped and sautéed fruits, vegetables and pork, the sweet smells lingered throughout the Great Hall of the Memorial Student Center.
Prepping for state event
Event director Brian Bergquist, professor in the School of Hospitality Leadership, said the competition gave students an opportunity to prepare for the state ProStart Invitational Thursday, March 12, in Milwaukee as part of the Wisconsin Restaurant Show. The state winner advances to the National Restaurant Association Education Foundation ProStart Invitational May 8-10 in Washington, D.C.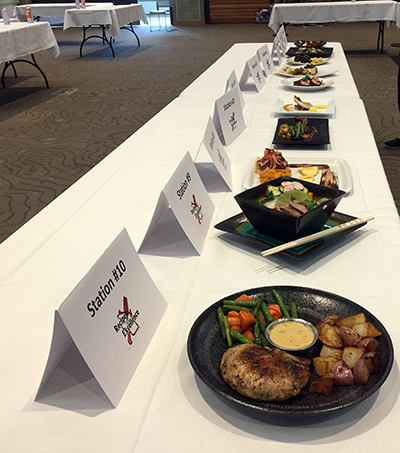 "It's an opportunity for some of them that have never been on a college campus to visit one," said Bergquist, who has been a judge at ProStart state and national competitions for the past 12 years and is a member of Wisconsin Restaurant Association Education Foundation Board of Directors. "It's a chance to introduce us to them and them to us."
Hotel, restaurant and tourism management offers many different career opportunities, he noted.
Grace MaCahon, a senior hotel, restaurant and tourism management major who is graduating in May, helped coordinate volunteers for the competition. "It's inspiring to see these young chefs and to witness their amazing talents," she said. "Every dish is different and you are seeing every individual teams' skills."
The competition was hosted by the School of Hospitality Leadership and the WRA Education Foundation. Sponsors included Hormel, ConAgra, Chef Works, National Business Aviation Association, Mercer Culinary and Pepsi Co.
'Stressful but fun'
Amery High School juniors Gus Wentz and Gavin Phillips competed in their first culinary competition at Recipe for Excellence too. "It was fun, stressful but fun," Wentz said. "When I opened up the boiling pot with the pork in it, it started to curve over. We tried cutting it but then the portions go small."
The two worked with the Farm Table, an Amery restaurant, to develop the recipe of pork chops with carrots and pineapple. "We learned a lot," Phillips said. "Even if we didn't win, we got to see all the other participants. I could see everyone was ready to cook."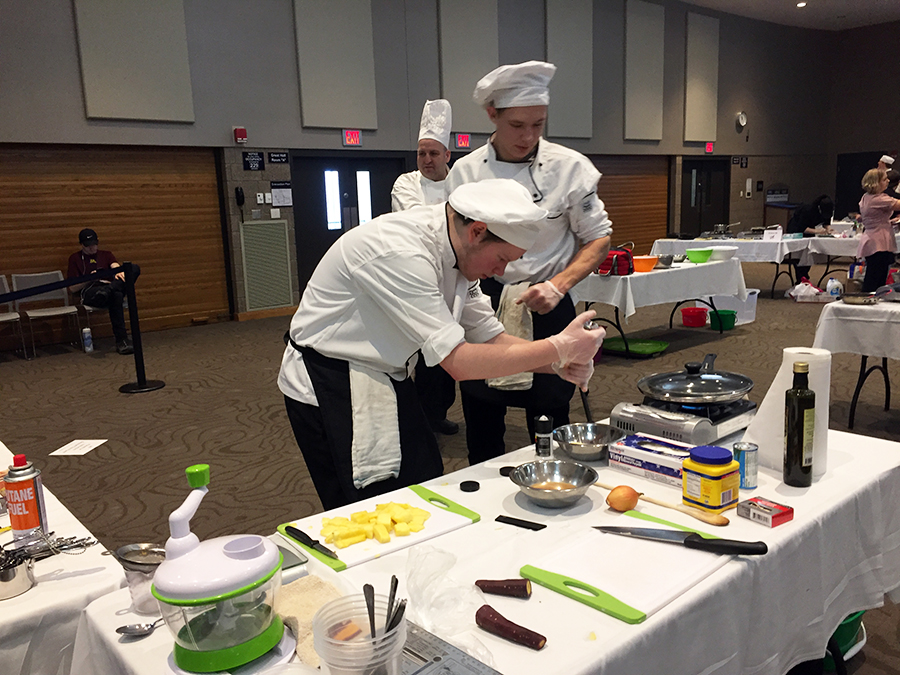 The two agreed they needed more color in their dish to add vibrancy.
Wentz said he has enjoyed cooking most of his life. "You get to make people happy," he said. "It's fast-paced and never boring."
Their coach Emily Larson, a UW-Stout 2003 alumna in family and consumer sciences education, who teaches at Amery High School, said one of the challenges for the team was not having electricity to keep food warm. "It lets them see how it is to be out there in a restaurant atmosphere," Larson said. "It's very intense and fast in food service. The timing is very strict."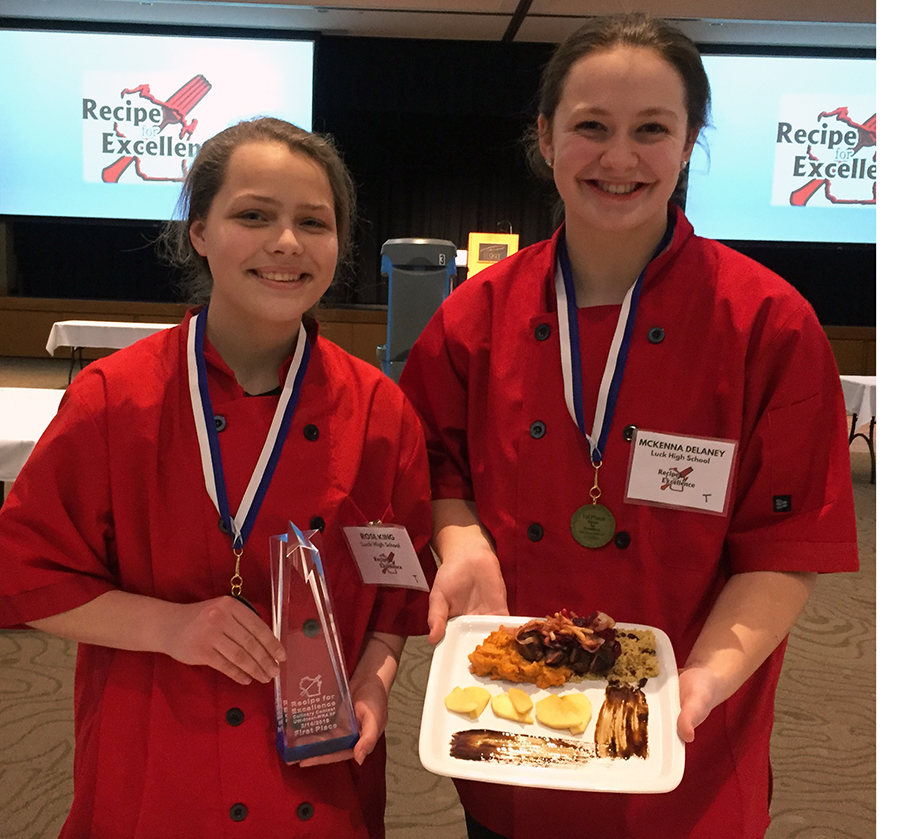 Second place went to Neenah High School and third place to Middleton High School. Each received a trophy for their school, medals and a $200 scholarship to UW-Stout per student for second place and $100 for third place.
The School of Hospitality Leadership, celebrating its 50th anniversary, is ranked No. 8 in the world and No. 6 in the U.S. by CEOWorld magazine. The school also was recently named one of the best in the U.S. by Hotel Management magazine.
UW-Stout is Wisconsin's Polytechnic University, with a focus on applied learning, collaboration with business and industry, and career outcomes.
###
Photos
Amery High School students Rose King and Mckenna Delany won the Recipe for Success culinary competition at UW-Stout on Thursday, Feb. 14.
The pork dishes entered into the competition hosted by the School of Hospitality.
Amery High School team members Gus Wentz and Gavin Phillips work on creating their dish during the Recipe for Excellence.
Luck High School students Rose King and Mckenna Delany with their winning dish. This was the first culinary competition the two had ever entered.