Four main events will be the highlight of University of Wisconsin-Stout's annual homecoming celebration Saturday, Oct. 5.
Prior to the big event, the 2 p.m. football game between the Blue Devils and UW-Oshkosh at Williams Stadium, three other activities involving the community are planned:
At 8 a.m., Breakfast at the Buck, a free breakfast for alumni at the Silver Dollar Saloon, 315 Main St. E.

At 9 a.m., the annual Blue Devil Run/Walk, a 10K or 5K event, begins and ends outside the Sports and Fitness Center, next to the outdoor track. The course follows a loop on trails along the Red Cedar River and through downtown.

At 11 a.m., the homecoming parade will go north on Broadway Street to Main Street, then east on Main to Third Street East, then south to the student center.
Close to 40 units are expected in the parade, including the Blue Devil Jazz Project, led by Director Aaron Durst.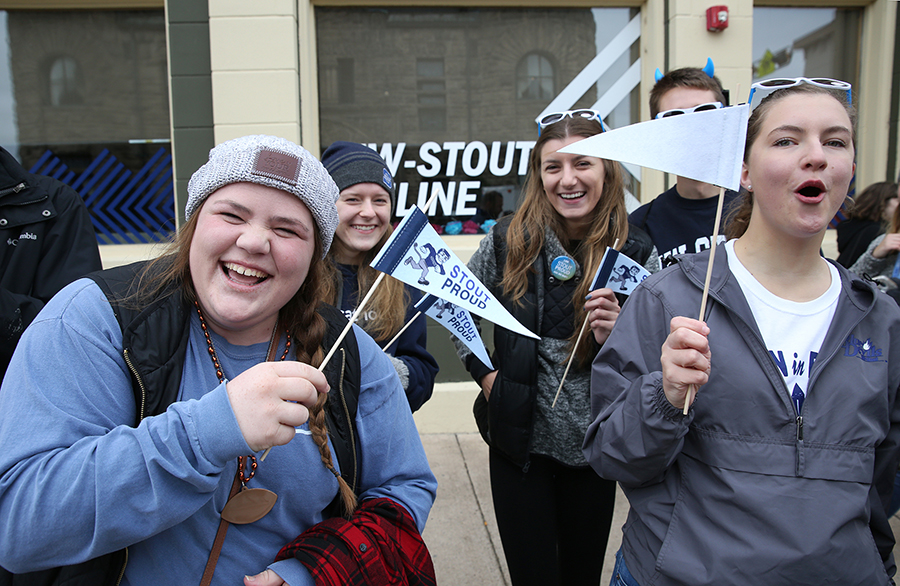 Another special event is the Stout Secrets Tour, hosted by University Archives, beginning at noon at Stoutfitters in the Memorial Student Center.
For more event information, go to the homecoming webpage.
Events for students, including a soapbox derby, medallion hunt, hypnotist and comedian, will be held throughout the week. Student events are coordinated by Blue Devil Productions, a student organization.
Interim Chancellor Patrick Guilfoile and his wife, Audrey, plan to run in the 5K event and walk in the parade.
"A lot of planning and work goes into this celebration every year, and I'd like to thank the students, faculty and staff who work so hard on it, particularly the members of Blue Devil Productions and our homecoming committee," Guilfoile said in his recent blog.
Co-chairs of the committee are Julie Zack, administrative assistant in the Chancellor's Office, and Jenn Tack, an assistant in Administrative and Student Life Services.
UW-Stout's first homecoming was held in 1917, in part to celebrate the grand opening of Harvey Hall. The first homecoming football game was held in 1922, according to the university history book "An Idea Comes of Age: UW-Stout, 1891-1916."
UW-Stout was founded in 1891.
###
Photo
Students have fun during the 2018 UW-Stout homecoming parade.