For her senior capstone project, Michaela Cook is designing a concept retail and office space for a fashion label. Her layout will address COVID-19, the impact of which promises to change how work and shopping spaces will be used for years to come.
She wanted to design a space that considers COVID-19 guidelines because of her belief that "in order to make design advancements, you need to keep up with current design and understand what is happening in the world."
The project is an example of how Cook believes that she can improve quality of life and daily human experiences through interior design, her major at University of Wisconsin-Stout.
"I've always wanted to make an impact on society. With interior design, I can have a direct impact on how people live," Cook said.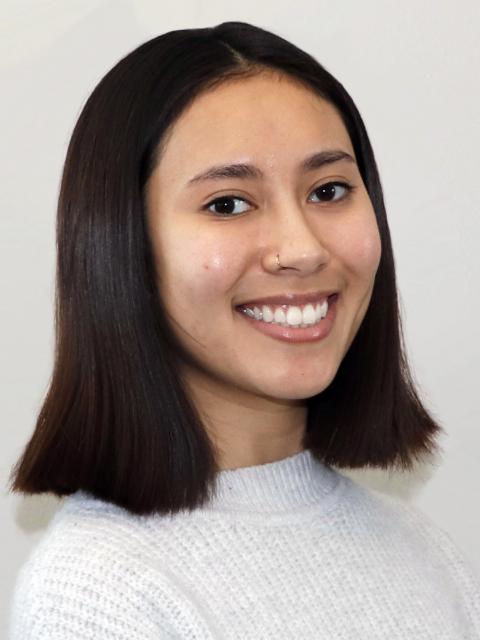 Cook, of River Falls, is excited to start her career when she graduates in December, but her work already is being noticed. On April 1, she was named to the 2021 Metropolis Magazine Future 100, a list of the most promising interior design and architecture students in the U.S. and Canada.
The list included 50 interior design and 50 architecture students — 30 undergraduate and 20 graduate students in each division.
Of the 30 undergraduate interior design students, Cook was the only student from Wisconsin and one of only three from Minnesota, Wisconsin, Iowa and Illinois. The 30 students were from 13 states, along with four from Canada.
The list, in the magazine's March-April issue, considered 300 applicants.
"She is very deserving of the Metropolis Future 100 honor," said Professor Shelley Pecha, interior design program director. "Her talent is well-rounded with unique creativity, high conceptual thought and excellent technical skills. She aims to create emotional experiences through commercial design."
Metropolis covers "design at all scales — from the smallest products to city planning" and features "the game-changers in the industry, from emerging talent to established individuals and organizations," according to its website. It was founded in New York in 1981.
Cook is hoping to design professionally in the hospitality industry, such as hotels and restaurants, but also is interested in corporate office spaces and branded companies.
Won BWBR award in 2020
No matter where she lands, she sensed years ago that interior design was for her.
"I was interested in interior design since elementary school. My cousins and I would go to my grandparents' house all the time and would pretend we all had a job and sit at the dining room table. I would pretend I was designing homes. At the time didn't know what interior design was. I thought it was fun to design things," she said.
Cook submitted a portfolio as part of her Metropolis Future 100 application. The portfolio included another concept design, a library for teenagers. That design helped her win the BWBR prize in 2020, a contest for UW-Stout students sponsored by the St. Paul architecture and design firm.
"I wanted it to feel like a community, a safe space for teens to go and learn and a place that inspires collaboration," she said.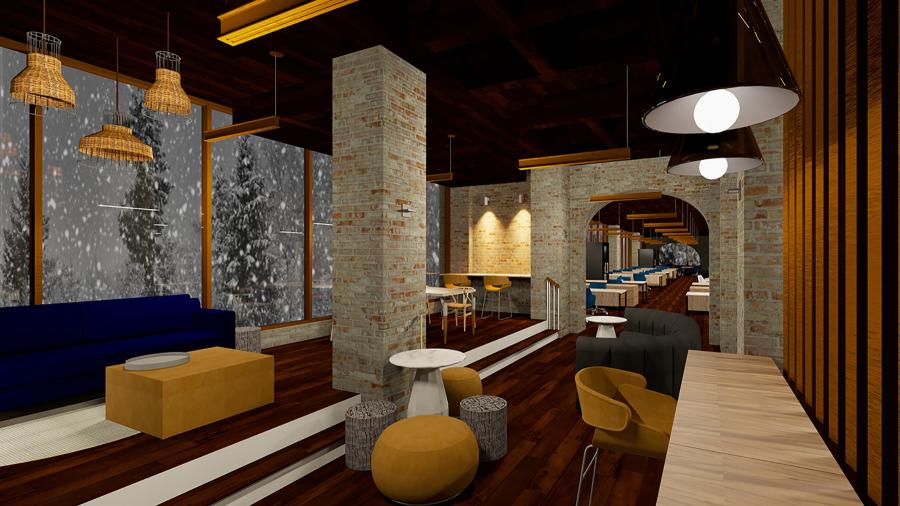 Students design with a software program called Revit. "You can render your design in 3D and walk through it on your computer," said Cook, but she also carries around a sketchbook so she can quickly record her ideas on paper.
The library project featured design elements based on color theory research she did in a psychology class. She is minoring in psychology.
At UW-Stout, she has appreciated the opportunities to engage directly with many professors and be involved on campus.
"Professors have made a huge impact on who I am as a designer. They're not afraid to tell you that you need to start pushing yourself. I didn't think I was the best art student in my first art classes, but I definitely improved," Cook said.
Pecha returned the compliment.
"Michaela is a joy to have in class and in the major. She is always fully engaged, very serious about her work and passionate about design. She strives for the best possible outcomes to set herself apart but also to challenge herself," Pecha said.
Cook is a member of the Student Interior Design club, where she mentors younger students, is events chair and has enjoyed networking with professionals.
The nationally accredited interior design program is one of six Bachelor of Fine Arts programs in UW-Stout's School of Art and Design.
###