Could biochar from two invasive species help remove the nutrients that feed blue-green algae blooms in Lake Menomin?
That's what two students are researching this summer as part of the LAKES REU, an eight-week summer research experience for undergraduate students at University of Wisconsin-Stout that studies issues related to cyanobacteria in the Red Cedar River watershed and how the compromised water quality affects the quality of life in the region. The watershed includes Lake Menomin, Tainter Lake and the Chetek chain of lakes.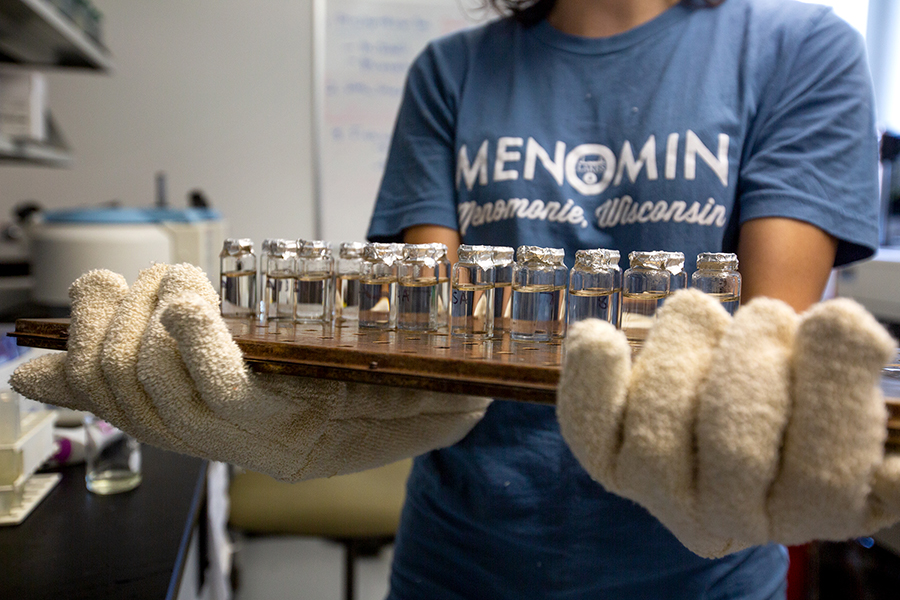 Marcella Domka, a senior environmental biology major at the University of Dayton in Ohio, and Madeline Tripp, a senior majoring in applied geography at East Carolina University in Greenville, N.C., are analyzing the impact of removing phosphorus and nitrogen from lake water using biochar.
They are studying if the nutrients will bind to the biochar, which is charcoal treated with different metals. The biochar would come from buckthorn or reed canary grass, two invasive species in the area.
"There is some research that the biochar can be used on the soil after it locks in nutrients, and plants can slowly tap into it," Tripp said.
Tripp and Domka will present their findings along with research from eight other LAKES REU participants from around the U.S. from 5 to 7 p.m. on Wednesday, July 31, at the Raw Deal, 603 S. Broadway St., Menomonie.  The event is free and open to the public.
Domka said she was attracted to LAKES REU because of the interdisciplinary approach to trying to solve environmental issues. "I have been interested in pollution mitigation and how it can affect a whole ecosystem," she said.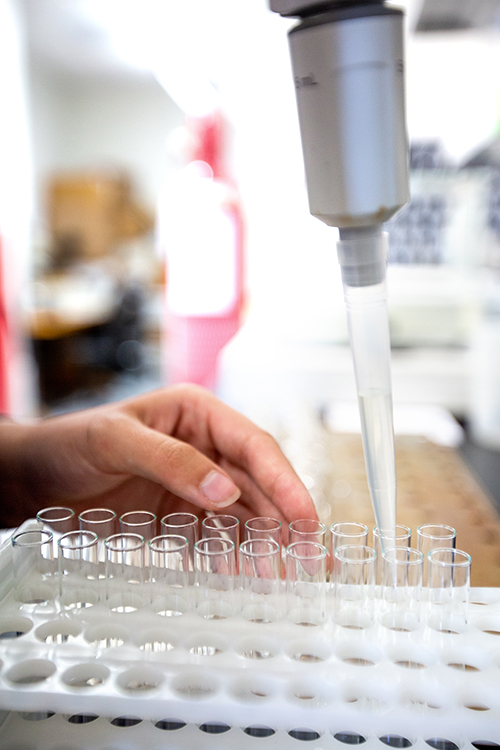 Chris Ferguson, co-director of LAKES REU and an associate professor of economics, said this year students are surveying community members in Rice Lake on their connections and perceptions of the watershed. The goal is to expand the research area to include more communities.
Students also are researching local food and how to continue to grow and support the movement to help farms thrive.
Ferguson urged people to attend the presentation. "I think we have a lot of new information," he said. "This is a community issue that everyone is going to need to be involved in."
Arthur Kneeland, co-director of LAKES REU and a senior lecturer in the biology department, said the presentations provide a fresh view to the watershed. "It's a great opportunity for the community to talk to each other," he said. "That is part of what is so valuable."
Nell Gehrke, a senior environmental student from Augsburg University in Minneapolis, is researching the perception of farmers and their relationship to the watershed, particularly looking at smaller farms.
"This is exactly the kind of research I want to do," she said. "I care about water health and keeping the natural world beautiful and clean. I love the idea of working together as a community. I think people understand the importance of making a change in a community can lead to making change in the world."
Ivy Huwald, a senior geography major from Humboldt University in Arcata, Calif., is researching the history of the area's relationship with the watershed including how it was used by industry and recreationally. "I love looking at the hard data and looking at the actual change in the land over time," she said. "What is the history behind it, and what does that tell us about our future?"
The students, their home universities, research focus and UW-Stout faculty advisers are:
Ivy Huwald, Humboldt State University, Arcata, Calif., geography team; Innisfree McKinnon

Esther Ramsey, Macalester College, St. Paul, geography team; McKinnon

Nell Gehrke, Augsburg University, Minneapolis, political science team; Kim Zagorski

Olivia Rengenier, University of Michigan, Ann Arbor, Mich., political science team; Zagorski

Madeline Tripp, East Carolina University, Greenville, N.C.,  biology team; Arthur Kneeland

Marcela Domka, University of Dayton, Dayton, Ohio, biology team; Kneeland

Emily Gould, Eckerd College, St. Petersburg, Fla., economics team; Zach Raff

Jacey Schick, University of Illinois at Urbana-Champaign economics team; Raff

Lillian Strehlow, UW-Eau Claire, economics team; Chris Ferguson

Elizabeth Saunders, Indiana University, Bloomington, Ind., economics team; Ferguson
Research project in its sixth year
LAKES REU is on the last year of its second three-year grant, $303,000, from the National Science Foundation. The first grant cycle ran from 2014 to 2016.
Ferguson and Kneeland plan to apply for another three-year grant.
"There is still a lot more to be done," Kneeland said. "The research is important, and we haven't answered all the questions. We are continuing to ask the question, 'What should our watershed look like?' "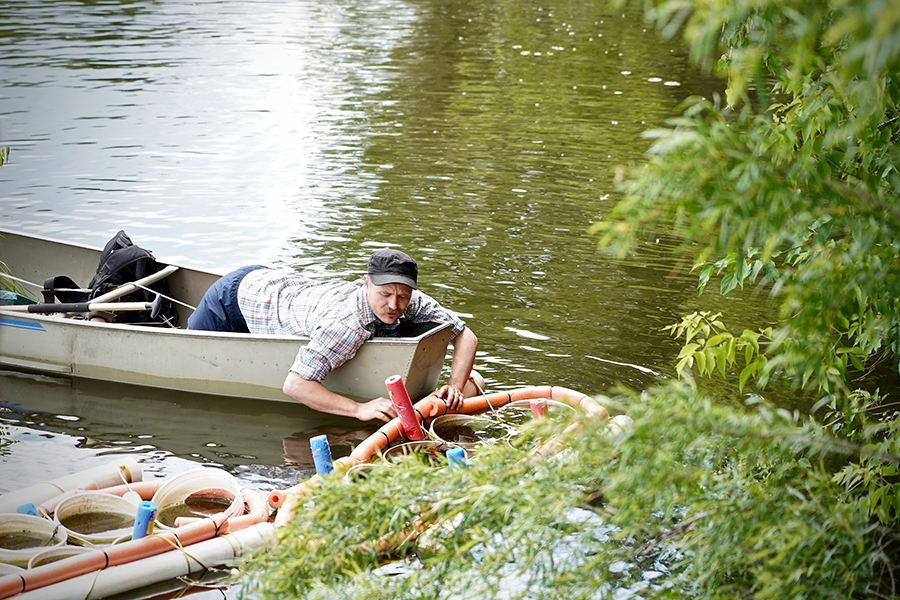 With climate change, it is even more important to look at the food grown in the area too, determining what will grow as the weather changes. "How do we create an agriculture system as we move into the future?" Kneeland said. "The climate will change what agriculture looks like in the future."
LAKES REU stands for Linking Applied Knowledge in Environmental Stability Research Experience for Undergraduates.
LAKES REU students have produced research projects on social, economic, ecological, cultural and spatial issues related to the toxic blooms, which are caused by excessive phosphorous in the waterways.
Along with the student research, LAKES is collaborating with the U.S. Army Corps of Engineers and the Wisconsin Department of Natural Resources, which has $500,000 in funding for a related watershed project called the Red Cedar River Water Quality Partnership.
LAKES REU is collaborating with the U.S. Army Corps of Engineers and the Wisconsin Department of Natural Resources, the Tainter/Menomin Lake Improvement Association, Dunn County, Barron County, City of Menomonie, Red Cedar Lakes Association, Chetek Lakes Protection Association and the Big Chetac and Birch Lakes Association.
The watershed includes about 40,000 acres of open water and 4,900 miles of waterways.
###
Photos
Some of the LAKES REU students are studying the use of biochar's viability to remove nutrients from lake water that feeds blue-green algae.
LAKES REU students are studying making the biochar from two invasive species that grow in the area.
LAKES REU co-director Arthur Kneeland checks a lake water experiment on Lake Menomin./ Photo from LAKES REU