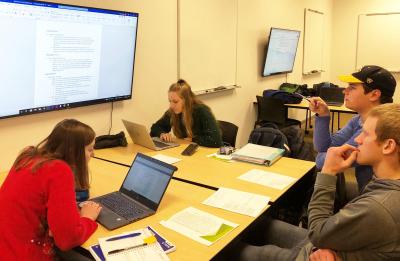 MBE students have participated in FBLA state judging since about 2010, said Professor Debbie Stanislawski, program director.
This year, eight students in Stanislawski's Business Education Methods and Curriculum course judged four FBLA events: database applications, spreadsheet applications, computer concepts and word processing skills.
The judging was virtual, but students have attended in person to judge live performance and production events in past years.  
They spent three two-hour class periods to complete the judging, using the recently renovated collaborative learning space in room 224S in the Communication Technologies Building. The space allowed them to review hard copy and digital resources of students' submissions, and share notes on projection TVs, referencing the rubric for scoring and the FBLA format guide.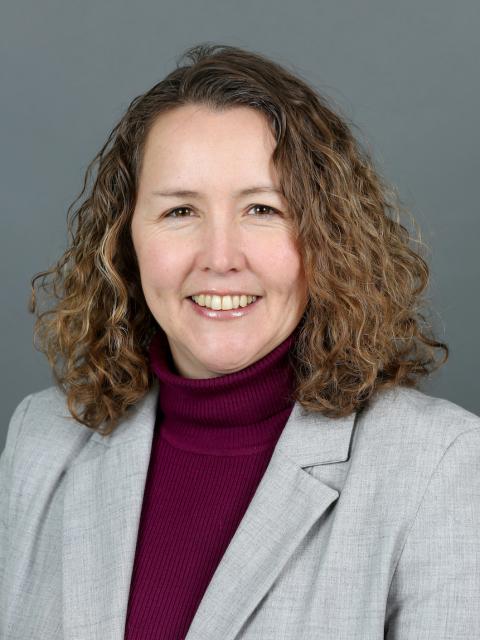 "To me, this speaks directly to our polytechnic mission of applied learning, career focus and collaboration with outside stakeholders. The importance of what MBE students are doing does not escape them in terms of their dedication to giving quality feedback and scoring accurately," Stanislawski said.
Logan Horn, a senior from Eau Claire, has participated in FBLA state judging for the past three years. He wants to be an MBE teacher because he loves to create impactful relationships with students and help them explore potential careers to be successful in the future.
"Marketing and business education allows me to teach students skills that they can apply throughout their lives, whether they are looking to expand on their knowledge in a college or university setting or enter the workforce," Horn said.  
Shortly before the competition, the class completed a unit on information technology methods and curriculum. Students reflected on which methods and assessment strategies for technical skills aligned with the competitive events.
"They also reflected on the rigor necessary in high school curriculum to have students find success within these high school business competitive events," Stanislawski said.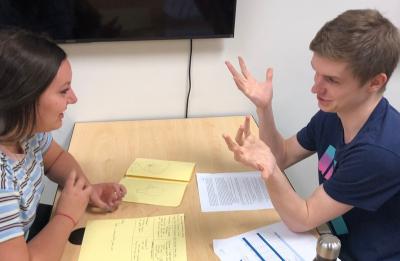 Horn's courses prepared him for the judging by giving him the knowledge and skills related to teaching and an understanding of what the student competitors were being asked to do.
"The pedagogical classes gave me experience working with rubrics and how to grade assessments. Those skills were beneficial when judging FBLA state," he said.
The judging experience also helped prepare Horn to be an adviser for a career and technical student organization. He saw the skills his future students would need to be successful at the highest levels of competition.
"It was great to see the potential that these students have," Horn said. "When you prepare a student to be successful in situations such as FBLA state, it is awesome to see how much they can actually do. It will be very rewarding to see students have this success during my teaching career."
Horn graduated May 8 with his MBE degree and a minor in business administration. He has interviewed for a teaching position as a business education teacher at the middle school level.
UW-Stout's School of Education has prepared teachers and educators since 1891. It offers seven undergraduate programs, five graduate programs and post-baccalaureate educator certifications. Marketing and business education is offered both on campus and in an online/hybrid format.