Amy Anderson had no dance experience when she walked into a dance studio 11 years ago for her first lesson. She loved the high energy, the music, the challenge and meeting new people.
"I call dance my 'Wizard of Oz' moment," Anderson said. "Dance opened a door, and my life went from black and white to technicolor. I've never looked back. But I've always struggled learning choreography. I needed another way to visualize the steps."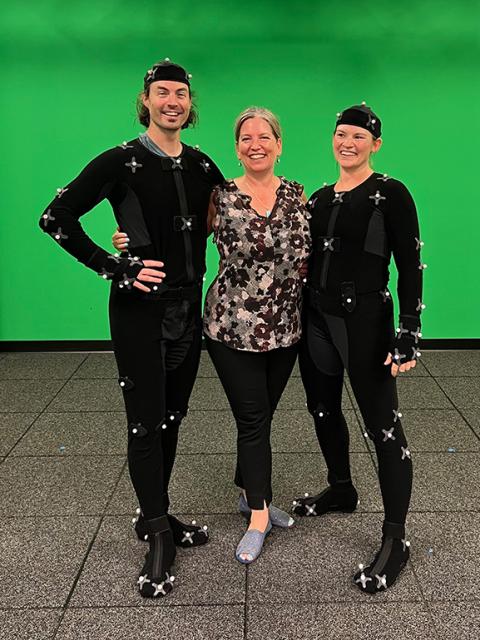 So, with more than 20 years of experience in IT project and program management, Anderson set out to develop At Your Angle, a 3D dance app designed for visual learners, meant to supplement their choreography lessons for ballroom dancing.
At Your Angle will allow dancers to see choreography with only the lead, only the follow or both parts together. They will also be able to change the perspective to see the dance at their angle of choice and to zoom in or out to see specific details, Anderson explained. The app will also allow instructors to create new or edit existing choreography and share it with their students.
"I'm an entrepreneur, and I wanted to do something in the dance world. This app can be my mark," she said and thought UW-Stout could help her make her mark.
Anderson partnered with her dance instructor and his wife, Gordon and Kate Bratt, professional dancers, to develop a playlist for the app. Gordon and Kate are the owners and instructors of Dancers Studio, established in 1986, in St. Paul. Anderson has been their student for several years.
She had read about UW-Stout's Motion Capture Studio when the studio first opened on campus in April 2019 and thought the studio could help her bring her app to life. She reached out to animation and digital media Senior Lecturer Jesse Woodward in the School of Art and Design. It is the only motion capture studio in the region.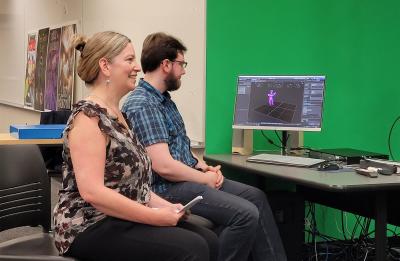 Woodward has worked with the university to develop rates to work with others like Anderson and At Your Angle. As director of the studio in Micheels Hall, he works with outside clients with help from graduate assistants and student volunteers, with the hope of connecting clients and students for field experiences, internships and graduate theses.
Anderson, the studio's first outside client, stepped into the studio with Woodward recently, joined by Gordon and Kate to execute dance moves for the playlist. 
Progress in motion
In the studio, under the direction of Woodward's technical expertise, Anderson, Gordon and Kate worked over the course of five hours to record the playlist.
The morning began with Woodward and Anderson placing 57 reflector nodes on black, elastic suits worn by the professional dancers. The nodes act as sensors and are detected by eight cameras, which operate in a sphere to capture raw data from the suits.
In the 20-by-20-foot studio, with a green screen background, the cameras take 120 frames per second to show fluidity of movement and triangulate data like a cellphone tower. Vicon Shogun Live software is used for setup and the recording of the motion capture data, displayed in real-time on large monitors.
After suiting up, Gordon and Kate stepped into the space and completed a ROM – range of motion – exercise directed by Woodward, mimicking several yoga poses to calibrate the subjects. Their avatars began to materialize on the monitors, generated as 3D digital skeletons assigned to the dancers.
Gordon and Kate then took center stage in front of the green screen, completing more than 200 dance steps from nine American-style dances: waltz, tango, foxtrot, Viennese waltz, cha cha, rumba, East Coast swing, bolero, and mambo.
Once movements are recorded with the motion capture system, there are several steps to reach the final product, using Vicon Shogun Post for basic animation cleanup and exporting the files into a format suitable for 3D visual effects software, like Autodesk Maya, Woodward explained.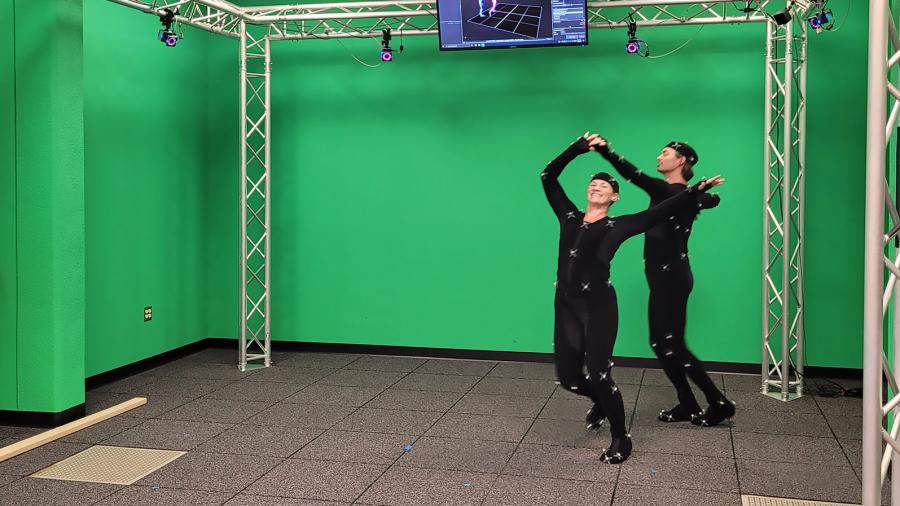 "Wednesday was a dream come true. Professor Jesse Woodward and UW-Stout's Motion Capture Studio were great to work with," Anderson said.
Anderson expressed interest in working with Woodward and UW-Stout students on animation cleanup. She plans to use the studio again to motion capture international-style dances and encourages everyone to learn more and follow the progress of At Your Angle.
"The recording session with Amy was a lot of fun, and it gave me the opportunity to meet new people and learn about ballroom dancing from professionals. I can't wait to see the final product of Amy's project," Woodward said.
Endless possibilities in the studio
Woodward uses the studio often for classes, including his 3D Character Animation course, where students are trained to use the studio, learn to apply the motion data to a rig and clean up the animation for final render, he said.
He even assigns students to research a dance move to then complete a loop in beat under the cameras. The experience ties in the liberal arts with hands-on learning, a practice central to UW-Stout's polytechnic advantage.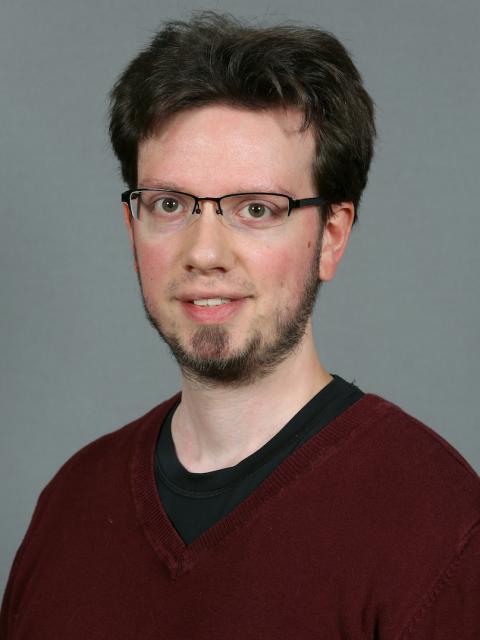 "The idea Amy brought forward was familiar, but her project is a little more involved than my students' assignments," Woodward said.
He believes there are endless possibilities for projects within the Motion Capture Studio for outside partners and on-campus collaborators, alike. This year, for example, the engineering and athletics departments will be in the studio.
"We could collaborate on live virtual performances; use virtual reality and augmented reality; detailed hand and finger animation; motion capture athletes, animals and more," Woodward said. "In the future, I hope to expand the system to do facial capture and camera tracking as well."
Interested collaborators may email motioncapture@uwstout.edu for more information.
SOAD has six Bachelor of Fine Arts programs, each with unique skillsets, including animation and digital media, game design and development, graphic design and interactive media, industrial design, interior design and studio art. It also offers a master's in Design and bachelor's in arts administration and entrepreneurship and video production.