A new tour is available at UW-Stout, and it's open to everyone, everywhere, anytime.
The YouVisit virtual tour, a 360-degree interactive experience, recently launched. It can be found on the Campus Tours webpage and works with a computer, cell phone and other web viewing electronic devices.
The tour takes visitors on a site-by-site trip around campus and inside the main buildings. At each location, a narrator explains building features and general uses. Harvey Hall, for example, is described as UW-Stout's historic academic building where most general education classes are held and where the theater is located.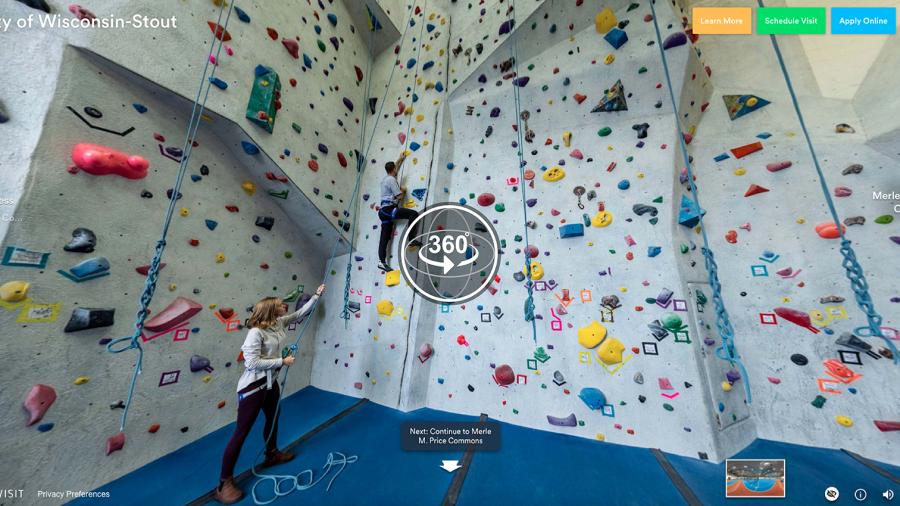 Tour stops have embedded pop-up links where visitors can learn more about that location, such as the Ceramics Lab in the Applied Arts Building, a view of the bells from inside the Clock Tower at Bowman Hall and a look inside a typical residence hall room.
Tour users who need accessibility features, including captioning, can click an icon in the lower right corner of the video screen.
Panoramic filming allows visitors to adjust their view in any direction, inside or out to help them get their bearings on the 124-acre campus.
While UW-Stout's Admissions Office provides walking tours to prospective students and encourages a personal visit, the YouVisit tour gives interested students a sneak peak, allows prospective international students to see campus and helps engage online students.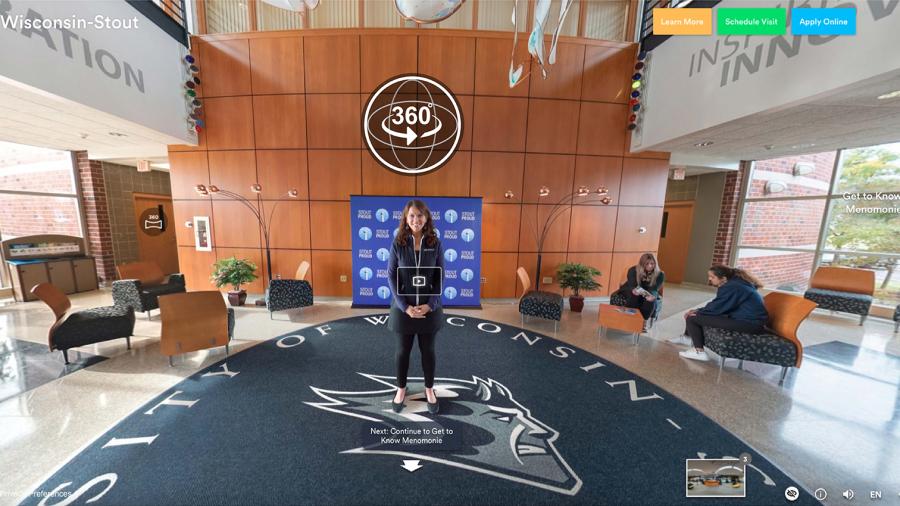 The tour also provides alumni a way to keep up to date with campus changes, allows donors to see their contributions at work and guests, including families of students and community members, to get better acquainted with campus.
UW-Stout contracted with EAB YouVisit, a national leader in the field, to develop the tour. A.J. Liedl, creative and brand manager, oversaw the project during the past year for Marketing Communications.
"Inside UW-Stout's virtual tour experience, you'll gain a better understanding of everything that makes UW-Stout so unique as Wisconsin's only polytechnic university," Liedl said. "It allows us to showcase the natural beauty of the university, student experiences through our impressive lab spaces, access to technology, hands-on experiences and our connection within the Menomonie community."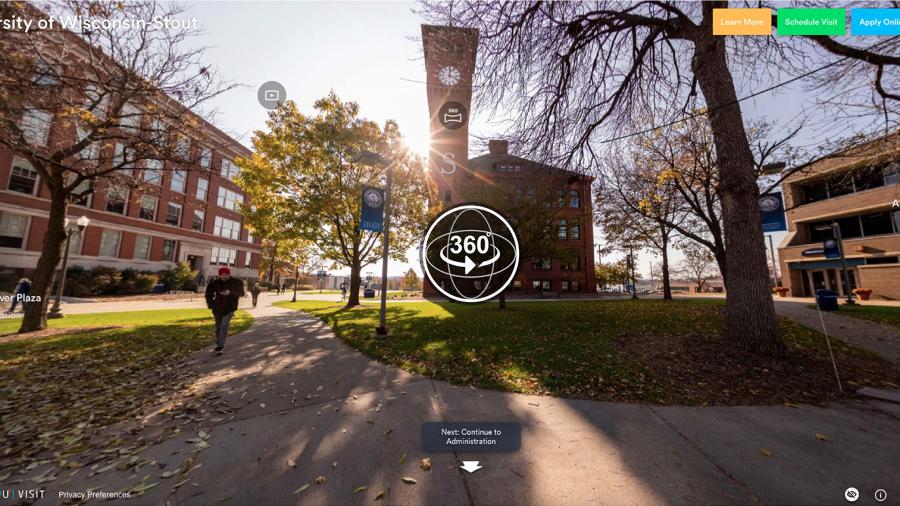 Liedl said the tour is needed because of a growing demand for an improved virtual experience, including from prospective students, especially since the pandemic began. "We found a greater need to create this access within one tool to fill that void. We know UW-Stout offers an incredible learning experience; this tool helps tell that story without placing a foot on campus."
Liedl and other MarCom staff worked with YouVisit videographers and faculty and staff to develop the tour's visual and spoken content. Several faculty and staff appear as site guest narrators.
Provost Glendali Rodriguez provides a greeting where the tour begins at the Memorial Student Center. Rodriguez explains the school's polytechnic focus and invites virtual visitors to "take a look around and discover everything that makes University of Wisconsin-Stout amazing."
The tour ends with a segment called Get to Know Menomonie, with a view of Main Street on the edge of campus. Menomonie has been ranked one of the 20 best small towns in America.
Tour visitors can forward through and return to sections as they please.
The university will be able to update the tour as aspects of campus, buildings and academic offerings change.
###