A recent University of Wisconsin-Stout graduate has been recognized by the Wisconsin Association of Colleges for Teacher Education.
Bryce Befort, who teaches sixth-grade science at Menomonie Middle School, received the WACTE Early Career Educator award in late April. The award is given to educators who are in the first three years of their career and is based on their positive impact in the school and community, innovation in the classroom and advocacy for students.
Befort is a 2018 science education program graduate from UW-Stout's School of Education.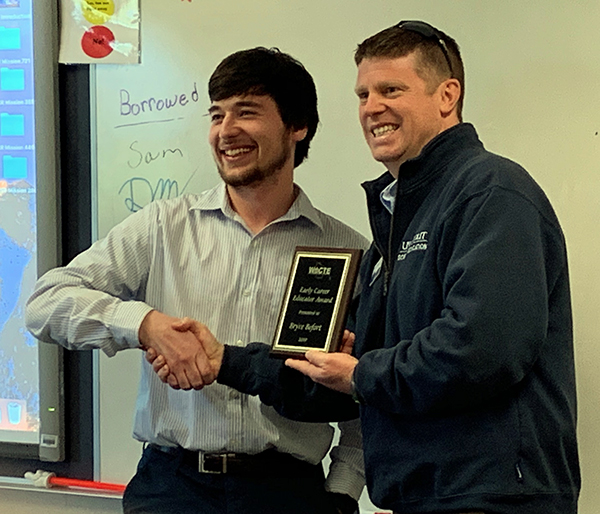 Professor Kevin Mason nominated Befort, saying he has engaged students with creative activities, such as a tug-of-war to study balanced and unbalanced forces; shooting rubber bands to study elastic force; and creating a spacecraft to apply Newton's Laws of Motion.
"Receiving this award was so honoring. I have been so blessed with an amazing, close-knit sixth-grade team and administration that I could not have done this without," Befort said. "Everyone has been so supportive and caring during my first-year teaching experience, and I cannot thank them enough."
Befort couldn't attend the awards program in Madison but was presented the plaque recently in his classroom by Mason. "It was great to receive the award in front of the people who helped me get to where I am, Kevin and my students, amongst others," he said.
Befort said UW-Stout has a "great teacher education program. It's very hands-on and field-based, where at the bare minimum students have five placements to help prepare them to become educators themselves. Not to mention, the staff is excellent and truly cares for the students and molding them into being future educators."
Befort originally is from South St. Paul, Minn., and grew up in Clayton, in northwestern Wisconsin. In the fall, he will begin teaching at Prairie River Middle School in Merrill. He is engaged to be married this summer, and his fiancée teaches in Wausau, near Merrill.
His fiancée is Annie DeBroux, a 2018 UW-Stout graduate in early childhood education.
###
Photo
Alumnus Bryce Befort, left, receives the WACTE award in his classroom at Menomonie Middle School from Professor Kevin Mason.