Associate Dean Kristal Gerdes believes there's an overarching reason why UW-Stout's School of Hospitality Leadership is recognized as one of the best in the world.
"It's the faculty. We know the students, and we're preparing them to succeed — to be leaders in the industry," Gerdes said.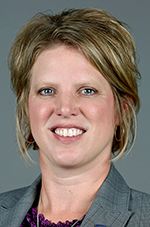 Gerdes, her colleagues, the university and alumni will be celebrating UW-Stout's 50-year legacy of hospitality education — and looking to the future — during the 2018-19 academic year.
The hotel, restaurant and tourism management undergraduate program was approved in 1967 and began in 1968, with a couple of name changes over the years.
The first anniversary event will be held Friday, Sept. 28, the first College of Education, Hospitality, Health and Human Sciences Golf Scramble to support scholarships. The event, with 1:30 p.m. registration and tee off at 2:30, will be at Tanglewood Greens golf course in Menomonie and managed by students in the golf enterprise management program.
Several other events geared toward alumni will be held around the state and country, and a banquet marking the 50th anniversary of the program will be held Thursday, March 7.
The School of Hospitality Leadership was named No. 8 in the world for 2017, according to CEOWorld magazine of New York, up two places from 2016. Among U.S. institutions, UW-Stout was No. 6.
During the anniversary year, officials will focus on hospitality education in other ways, according to Gerdes.
One goal is to create a new food and beverage pairing lab in Heritage Hall. Plans call for renovating the Rendezvous restaurant, which opened in 1992, and installing a new theater-style tasting lab with 20 stations as well as a new kitchen and a wine cellar. Other majors on campus, such as dietetics and food science, could benefit from the lab, Gerdes said. Eight or more courses could be taught there.
Also, fundraising efforts will support new scholarships and a professorship for faculty research, some or all of which could be named for longtime professors such as Peter D'Souza, Jafar Jafari, Phil McGuirk and Charles Metelka, who died in 2017.
"We're 50 years strong," said Gerdes, who has bachelor's and master's degrees from UW-Stout. "We want to create more awareness about the school and celebrate 50 years of success."
###
Photo

Kristal Gerdes