Seven members of UW-Stout's faculty and instructional staff have been honored for their outstanding work and efforts during the 2022-23 academic year.
Six employees received the Outstanding Teacher award and one received the Outstanding Graduate Faculty award Aug. 28 at a university event that kicked off the 2023-24 academic year.
"The start of the academic year provides a wonderful opportunity to celebrate our faculty and instructional academic staff as they prepare for their dynamic work with students," said Glendalí Rodríguez, provost and vice chancellor for Academic Affairs.
The Outstanding Teacher award recognizes a commitment to excellence and the university community. Recipients and their departments are: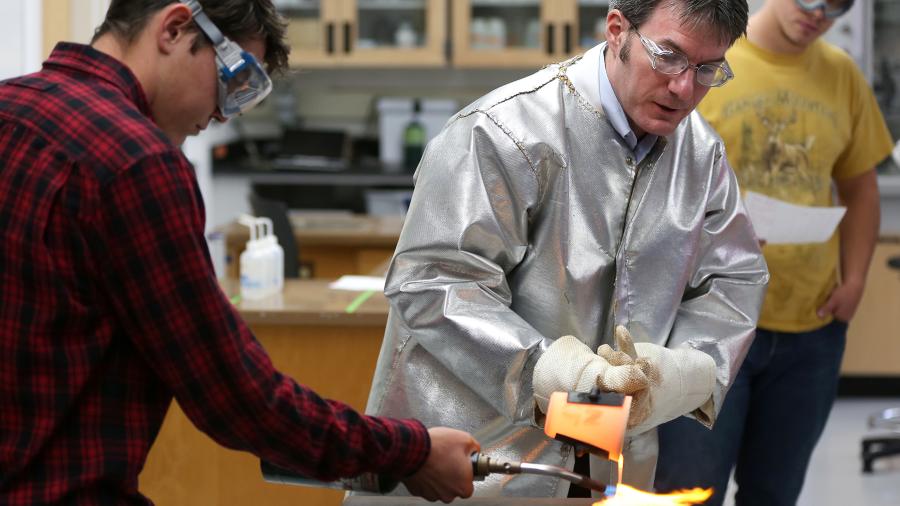 Assistant Professor

Dana Linnell, psychology
Professor Matthew Ray, chemistry and physics
Lecturer Sarah Eileen Smith, business
Associate Professor Emi Stuemke, English, philosophy and communication studies
Assistant Professor Michael Tetzlaff, mathematics, statistics and computer science
Senior Lecturer Joshua Wilichowski, visual and performing arts
The university's two colleges, Arts and Human Sciences; and Science, Technology, Engineering, Mathematics and Management, coordinate the selection of their honorees via an internal process.
The Outstanding Graduate Faculty award recognizes outstanding commitment, enthusiasm and assistance to the graduate student community. The Graduate School award is based on student feedback.
The recipient is:
Professor DeLeana Strohl, counseling, rehabilitation and human services
'Truly rewarding' work
Ray began teaching at UW-Stout in fall 2010. His work includes overseeing a student research group.
"What I love most is seeing my students succeed and achieve their goals and dreams, both during their time here and after graduation as they embark on their career," Ray said. "In particular, students from my research group have had an excellent track record of getting into graduate programs or finding industrial positions that are well matched to their interests.
"It is truly rewarding to work with students on research projects related to polymer chemistry and materials science and then to see them present their findings at conferences or publish their work."
He also enjoys how he learns "new things each day through the process of teaching. Whether it's reading about a new discovery to incorporate into my classes or researching a more in-depth answer to a student's question from lecture to discuss during the next class period, I have the privilege to exist in a state of perpetual learning," Ray said.
The recipients received a commemorative award, a congratulatory memo from Rodríguez and were recognized by Chancellor Katherine Frank during the academic year opening event at the Memorial Student Center.
Fall semester classes begin Wednesday, Sept. 6.
In fall 2022, UW-Stout had 225 faculty and 197 instructional academic staff.
In 2021, UW-Stout implemented its FOCUS2030 strategic plan built around five key goals. One of the goals is employee success, with a focus on fostering an equitable environment that invests in, supports, encourages and values diverse faculty and staff development opportunities.
###