Sitting with her family in a restaurant as a child, Erin O'Brien remembers her dad sliding her the check and helping him to calculate the tip for their server. This was her first experience with math, and having fun with her dad, it left a strong impression on her.
Just having completed her junior year as an applied mathematics and computer science major with a concentration in math education at UW-Stout, Stout Scholar O'Brien looks forward to her career as a teacher when she can help students enjoy learning math too.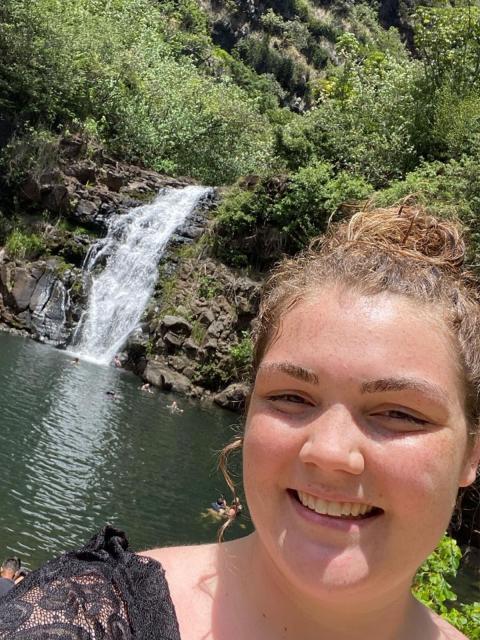 O'Brien, of South Haven, Minn., would like to teach at the middle or high school level, in higher level algebra or calculus. As a teaching assistant in the Math Teaching and Learning Center – a tutoring center on campus – she's receiving hands-on skills tutoring her peers.
"The Math TLC is giving me experience teaching, and I can work around my class and basketball schedule," said O'Brien, who plays center for the Blue Devils.
"I can go in and talk to the mentors, professors Amanda Larson and Laura Schmidt, anytime. They let me follow through with my own lesson plans and teach the Math 80 classes I request.
"And Dr. Sturgill has been a mentor math ed-wise," she added, referring to Assistant Professor Derek Sturgill. "He's a funny dude but is always very concerned about his students' welfare."
Larson and Schmidt have worked with O'Brien since she started as a Math TLC teaching assistant two years ago.
"Erin is a fantastic tutor and one of the best I have worked with over the seven years I have been director," Schmidt said. "Her choice to begin a career in secondary math education is a perfect one for her. She is extremely knowledgeable, patient with students and truly understands their needs and worries."
Larson agreed. "Erin has shown exemplary work as a TA with the Math TLC since day one and continues to show commitment to success for all students each and every day on the job," she said. "She has a true passion for teaching and has a bright future ahead of her as a future teacher."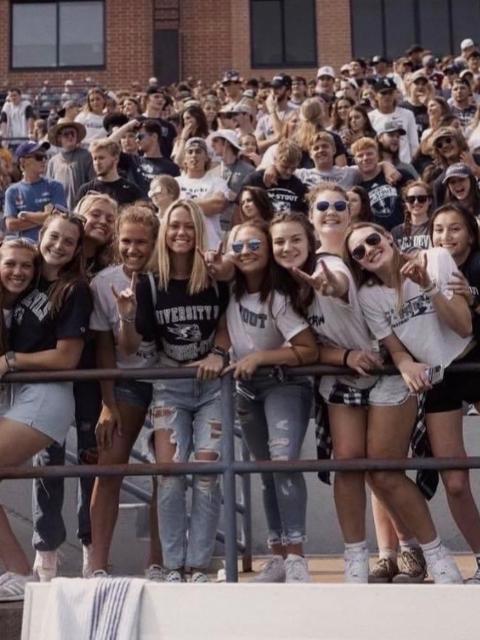 One of O'Brien's favorite courses her junior year was Graph Theory, where she used graphs to solve real-world problems like scheduling conflicts or mapping routes.
"For example, Google Maps uses graph theory to find the shortest route possible between two points," she explained. "You can find examples in history too. For our partner project, we researched how Roman Emperor Constantine protected the city using graph theory by moving his armies to different locations."
O'Brien also serves as vice president of AMCS Women's Club, where women and nonbinary people can connect with others interested in the field. The club provides professional development and networking opportunities, as well as study and game nights.
O'Brien will begin her prestudent teaching this fall and will take a Multiculturalism course to learn equity, diversity and inclusion in teaching. She's hoping for placements in the Menomonie area to be near campus during the basketball season.
Being a team is about more than winning
The women's basketball team was seeded second in the conference playoffs for the 2021-22 season. O'Brien saw action in 11 games. When she felt she needed to focus more on her academics, she approached her coaches with her concern.
"It was a hard decision to choose between basketball and academics. Choosing a path, you always wish you could do everything," she said. "But my coaches and team are great support. Our team is like family, and our coaches care about our whole selves as young women, rather than just a basketball team. The team atmosphere is more than about winning."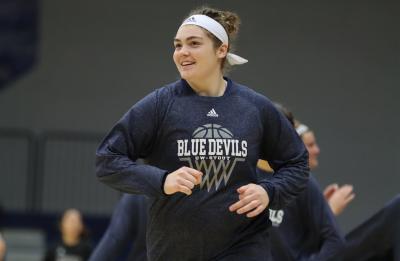 During practice she played on the scout team, studying opponents' plays and running them at full speed against her teammates. She credits senior Lizzy Olsem, starting forward, for giving her confidence as a scout player.
"Everyone plays their role to the best of their ability, whether a start or scout," she said.
"We were really motivated this year, and we found ways to be energetic and cheer our team on. Even though all of us wanted to be out on the floor, it was fun to support the team from the bench too."
With a coaching minor, O'Brien has learned CPR, anatomy and physiology, kinesiology, prevention of injuries and coaching theory. She volunteered at the university's basketball camp in June, where she used some of her classroom experience firsthand and took on new leadership roles.
She is also working with University Housing this summer as a conference assistant and appreciates the flexibility the job offers around her schedule.
Living off campus, O'Brien enjoyed having her own kitchen and yard, and a place to hang out and invite friends over. With space to relax, O'Brien still found comfort on campus as well and continued to see her counselor at the Counseling Center, helping her work to through struggles and find focus, she said.
"The Counseling Center is a great resource. A lot of people struggle with anxiety or depression and may be ashamed to talk about it, but everyone needs a little extra help," she said. "My counselor helps me mentally and helped me find what I need to do for self-help, like journaling, meditation and yoga."
Expanding her perspective and exploring new places
From May 26 to June 12, O'Brien joined the Environment and Sustainability course in Hawaii, an opportunity she'd been waiting two years for while study abroad was delayed because of the pandemic.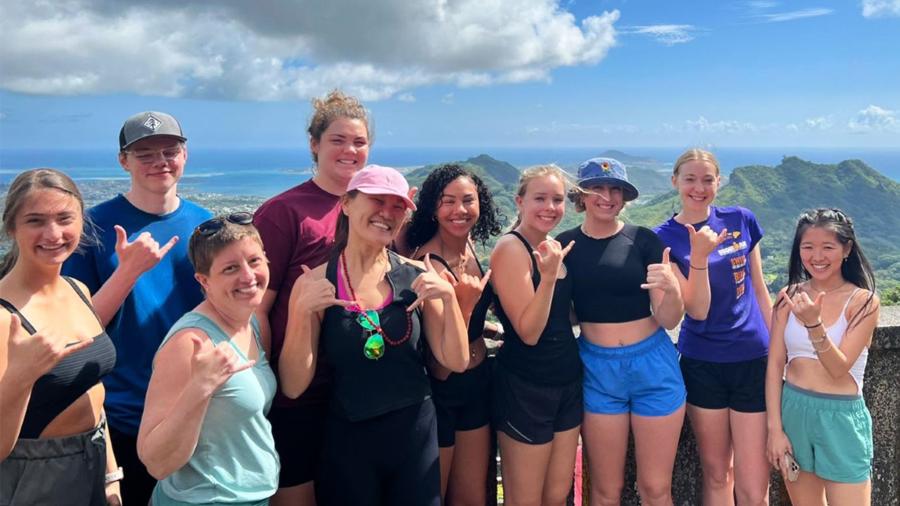 Led by UW-Stout Professor Julie Beston and onsite Coordinator Loretta Chen, O'Brien learned about the local ecosystems on the islands, with group side trips to see an active volcano at night, swim at a waterfall, cliff jump and surf.
"It was a class I needed to take, and who doesn't want to learn in Hawaii," she said.
O'Brien's favorite experience was going to the Paepae O He'eia fishpond, where she learned about the restoration process of the pond and its goal to feed people in the community.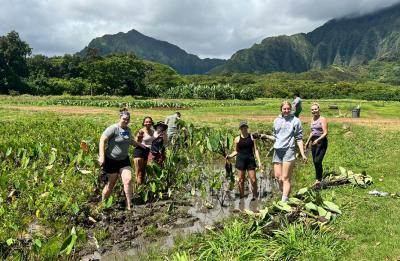 "How they talked about the restoration process was very spiritual, or sacred to them, and I found that so interesting," she said. "Before this trip, I only thought about the academic definition of sustainability or restoration, and now my definition has definitely expanded.
"Hawaii was an amazing experience. I learned so many new things. The group of people I traveled with made it even better," O'Brien said.
"I made new friends with the students in the class. Professor Beston was amazing to travel with, and Dr. Chen was one of the best people that I met on this trip. She was just so kind and outgoing and made you feel at home.
"Honestly, I think it is a Hawaii thing, because every person I met was so kind and welcoming to us and it made being so far from home a lot easier," she said.
More than 70 UW-Stout students studied abroad or away from campus this past summer in more than 10 countries and programs.