Four reporters and editors from UW-Stout's student newspaper, Stoutonia, received awards recently from the Wisconsin Newspaper Association.
The students were honored March 8 during a student luncheon at the Concourse Hotel in Madison.
The awards were based on content produced during the 2017-18 academic year.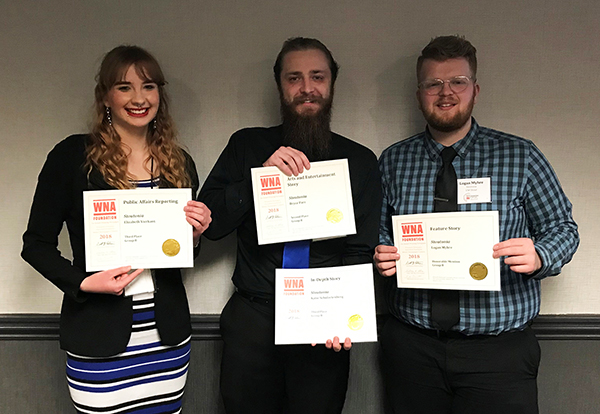 The Better Newspaper Contest, sponsored by WNA's Wisconsin College Media Association, recognized:
Bryce Parr, of Mondovi, second place, arts and entertainment, "The Menomonie Music Scene Finds a Home in the Abbey." He is entertainment editor.

Katie Schulzetenberg, of Melrose, Minn., third place, in-depth story, "Behind the Scenes of Campus Parking." She is campus editor.

Elizabeth Vierkant, of Rochester, Minn., third place, public affairs reporting, "Voter Suppression Silences Students on Campus." She is news editor.

Logan Myhre, of Necedah, honorable mention, feature story, "A Walking, Talking, Photo Shooting Blue Devil History Book." He is the Stoutonia editor.
All four students are majoring in professional communication and emerging media, which has a concentration in applied journalism.
"I'm so glad that the Stoutonia staff's work continues to get recognized at this state competition. I'm continually impressed with the work that the writers and editors do for each issue," said Associate Professor Kate Edenborg, English and philosophy department, the Stoutonia adviser.
Stoutonia, a bi-weekly publication, was founded in 1915.
###
Photo
From left, Stoutonia staff members Elizabeth Vierkant, Bryce Parr and Logan Myhre celebrate with their Wisconsin Newspaper Association awards.