With more than 30 buildings, 7,200 students and 1,100 faculty and staff, UW-Stout's campus infrastructure is comparable to a small city. 
Inside and around the 2.6 million square feet of building space are millions of pieces equipment, supplies, furniture, vehicles and much more. When those objects reach the end of one useful life but could have another, they end up at Surplus Property in the University Services building, 817 S. Broadway St.
The goal of Surplus is to keep the objects out of area landfills to improve university sustainability and profitability, and it contributes by the ton. For fiscal year 2022-23 that ended in June, 30,000 items equaling more than 209,000 pounds — almost 105 tons — of materials were purchased by the public at bi-monthly Surplus sales, returning more than $200,000 to UW-Stout. 
Also, another 15,000 items were claimed by other campus departments, saving the university more than $120,000 if those items had been purchased new.
"Surplus helps Stout reuse, repurpose and recycle no longer needed campus items that are not your 'normal' recyclable bin items," said Kadi Wright, UW-Stout sustainability manager. "Surplus helps Stout greatly in our landfill diversion."
House on the move
One unusual item that recently became surplus was a university house. Located at 215 12th Ave. S., the two-story, 1,540-square-foot structure built in 1910 needed to be removed to create additional student parking. UW-Stout sold the house online for $325. The buyer arranged to have it moved on Aug. 14 about 10 blocks south.
The sale saved the university up to $60,000 in demolition costs and diverted 94,000 pounds of rubble from the landfill. The structure — dubbed Pacifica House — had been used by Graduate School students, according to University Housing Director Adam Ludwig.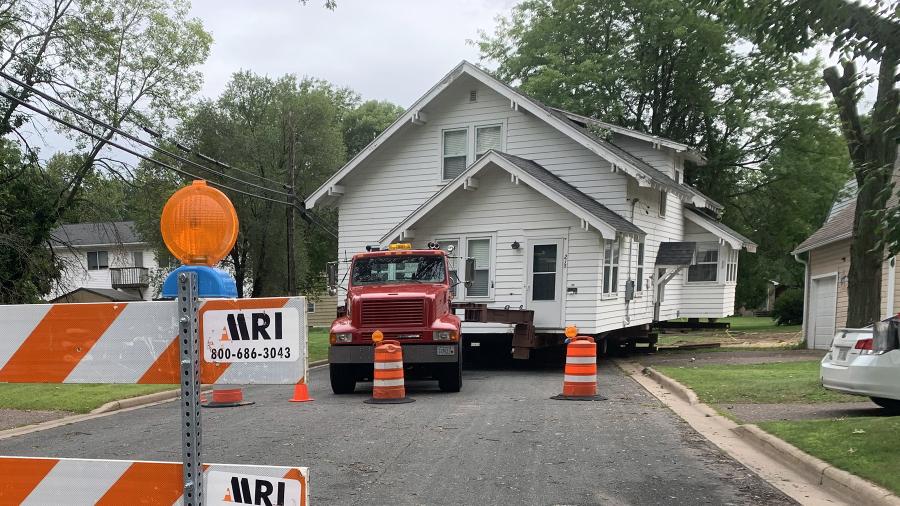 The house is one example of how Surplus Property strives to create a zero waste operation through four key efforts:
Wednesdays twice a month, faculty and staff can claim items for their offices or departments that their colleagues no longer need.

Thursdays twice a month, following the Wednesday campus offerings, public sales are held from 9 a.m. to 3 p.m., with buyers often waiting in line for the doors to open. 

Many UW-Stout Surplus items also are available at the 

Wisconsin Surplus Online Auction

, along with items from other state universities, technical colleges, agencies, counties and municipalities. State law regulates how most state-owned property must be disposed.

Items that repeatedly fail to sell are advertised as free to area nonprofit organizations.
The next public sales are Thursdays Sept. 7 and Sept. 21. Learn more here. Contact Surplus at 715-232-2262 or email surplusshope@uwstout.edu, including to be added to an email list about upcoming sales.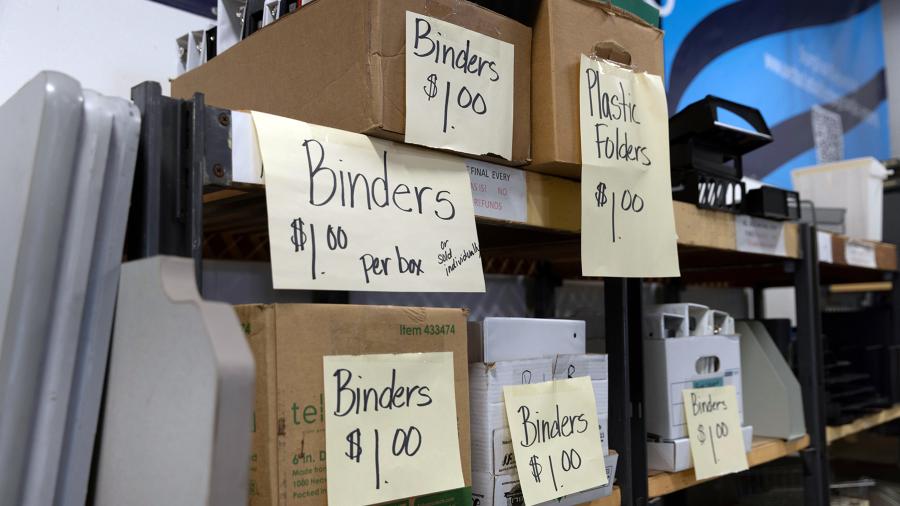 A campus thrift sale
At a recent public sale, customers were hauling out large items and placing them in pickup trucks at a loading dock or loading them into their cars. Sale items included metal filing cabinets; office and lounge chairs; computers, monitors and cables; board games; sports equipment; books; shelving; camera tripods and much more, all at thrift-sale prices.
The Surplus Property team includes Carley Scrivener, Purchasing and Materials Management director; Steve Soden, assistant director; Justin Kempen, inventory control; and Luke Rose, inventory control. The staff helps pick up and deliver items across campus.
"It's a fun job. We have no idea what's going to come in from day to day, and we find a market for it," Soden said, noting that Surplus, along with the University Library, also donates books that don't sell to the St. Paul-based national Books for Africa nonprofit group.
Laptop computers — including those that students receive as part of their tuition and sometimes are returned — with the latest Windows software are at the public sales. Some computers are sold at the online auction and shipped across the country, Soden said.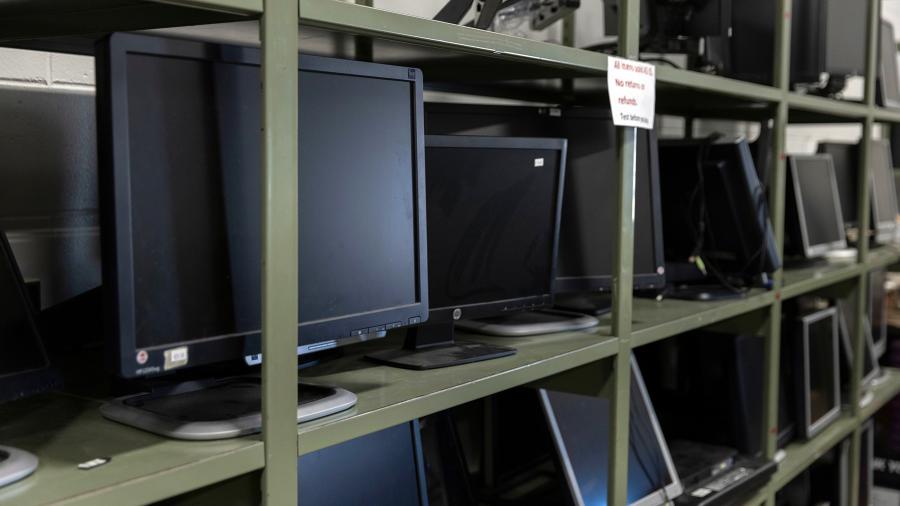 Surplus Property also is popular with students looking to pick up personal items, to help complete their residence hall room or furnish their off-campus residence.
When needed, e-scrap such as computer hard drives, printers and TVs are recycled along with scrap metal. "We even break down three-ring binders and other things that don't sell to remove the metal and recycle it rather than having it go in a landfill," Scrivener said.
A motorcycle and a piece of heavy equipment
Most items sold to the public are common, including used exercise equipment, but occasionally unusual items come up for sale. One of those was a rare, 1983 Honda CX6Cx 650 turbo motorcycle. It had been donated to the university, disassembled, and was used in a student lab.
Recently, a piece of heavy equipment, a front-end loader, was sold online for $11,400. The loader had been used to scoop coal into the steam furnace, but the university switched from coal to natural gas in March 2020 and the machine no longer was needed.
"The ongoing efforts and self-education by the Surplus staff to find new uses, markets and end-of-life responsible recycling for a wide variety of items adds to our overall sustainability goals," said Darrin Witucki, director of University Centers, including the Memorial Student Center.
UW-Stout is a Charter Signatory of the Carbon Commitment and being carbon-neutral by 2050.
A second campus solar panel project recently was completed. It includes new panels on the roofs of Jarvis Hall Tech Wing and General Services.
##