Situation
Production bottlenecks and manufacturing issues prompted Dental Crafter's co-owner Robert Slominski to seek a better way to serve dentists and patients who rely on restoration products the company manufactures. Reaching out to University of Wisconsin-Stout Manufacturing Outreach Center (MOC) for Lean expertise, Dental Crafters thus began a journey of process improvement that's spanned 10 years. Looking back, Slominski sees Dental Crafters' transformation as a result of the company's innovation, investment, and sense of "partnership" with MOC that's been a decade in the making.
Solution
At the start, MOC project managers helped Dental Crafters conduct a Value Stream Mapping project and shared Lean concepts with all employees. "In an open, friendly environment," recalls Slominski, "we got lots of ideas from operators who wanted change, but didn't know how. Our shop floor was very engaged in the process."
MOC's Ted Theyerl and WMEP's Andy Porter then worked together to introduce MPX software to Dental Crafters. The modeling software evaluates various processing scenarios for the company and has proven very effective in optimizing the company's production and throughput, as well as reducing the guesswork of resource planning.
Cellular manufacturing, also introduced by MOC, has had tremendous impact on Dental Crafters' lead times, quality and customer service. Staff now work in one of seven production cells, each team moving a specific product through the process from beginning to end. "We had to understand more accounting principles," notes Slominski, "but the idea of ownership has been extremely helpful. It's given people 'skin in the game'."
Training Within Industry (TWI), another essential element of Lean, was delivered by Theyerl and Mike Braml of TWI Institute to be sure Dental Crafters had the skills to successfully maintain these improvements. Supervisors, operators and cell leaders were shown how to break down jobs into trainable steps and how to instruct others to do the same, ultimately bringing stability and standardization to the process changes they'd achieved.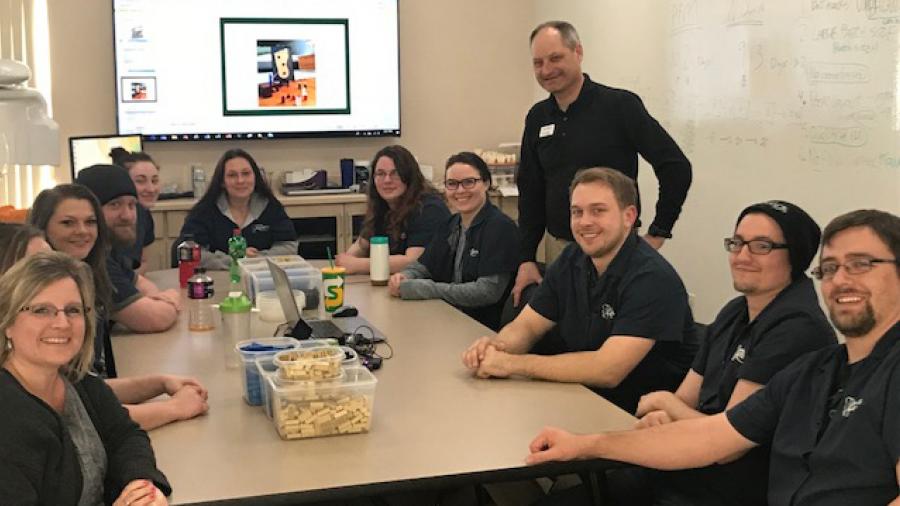 Results
Lean instruction and improvements remain an ongoing process at Dental Crafters. "Once you see the results," concludes Slominski, "it's so easy to want to take it further." Among others, positive outcomes at Dental Crafters include:
Lead time reduced from 12 days to 4 days
12% average increase in labor efficiency
9% annual growth