University of Wisconsin-Stout alumnus Connor Clark grew up watching his home state pro football team the Minnesota Vikings play on television.
He harbored a dream of working with the team someday.
That dream came true in September when Clark, a May entertainment design graduate with a concentration in digital cinema from Pine City, Minn., was hired as a media services production intern for the Viking Entertainment Network.
"Born and raised in Minnesota, I had to be a Vikings fan," Clark said. "It's definitely an honor to work for the Vikings. It's kind of surreal. It's literally everything I am passionate about; camera work and production and I get to work for the football team I followed all my life."
For home games, including the important upcoming game against the Green Bay Packers on Monday, Dec. 23, Clark works in the U.S. Bank Stadium broadcast room collecting footage and creating videos or adding graphics to footage for in-stadium fans.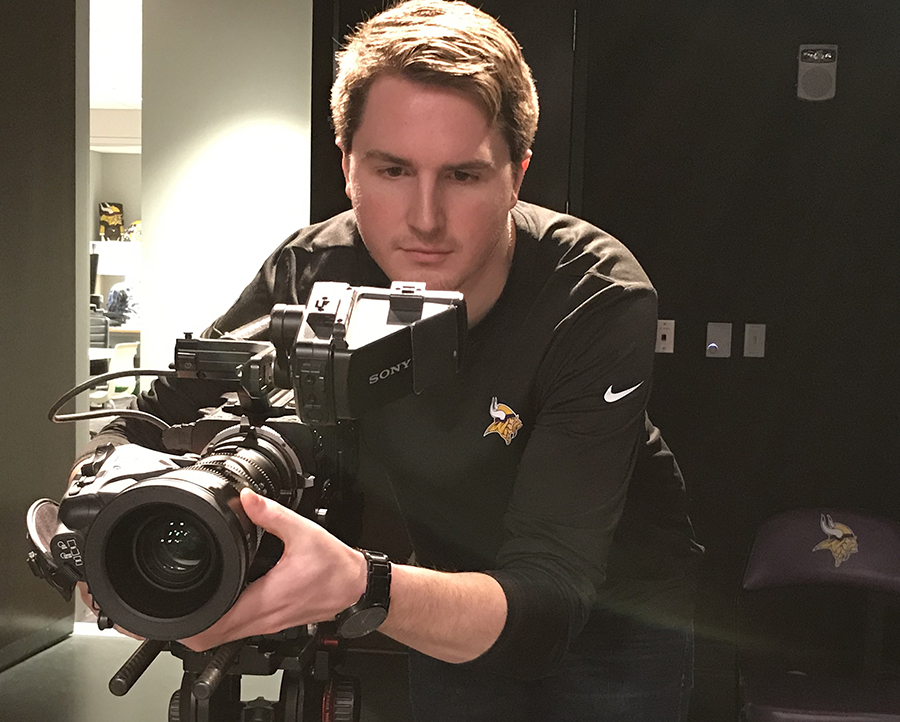 "There is so much going on in terms of in-stadium entertainment," Clark said. "We start one or two hours before the game starts. Everything on a video board is completely separate from what is put out on television. It can be hectic. They want things turned around quickly."
On nongame days, Clark creates video footage of events the Vikings are involved in or interviews players.
"I'm doing everything I can to represent the Vikings as best I can," Clark said. "They keep us busy, which I love. It's very dynamic. It's a lot about communicating with multiple departments. It's about being fluid and going with the flow. Whatever they need, you do it."
The players are all professionals, Clark said. "They are doing a job, we are doing a job," Clark said. "We do a lot of setting up shots, whether in the studio or everywhere in between. We end up directing them and interviewing them. My interaction is purely professional. They are fun-loving and a lot of them are used to being on camera. It is always super smooth. All these guys are D1 athletes that have been around cameras the last four years of their lives."
As an intern, Clark has a one-year contract with the Vikings. Come next September, he is hoping his position will become a more permanent one with the Vikings for years to come.
Clark credits UW-Stout and his experiences at the university for landing the job. Also, he played football in Pine City through high school. He was a running back and linebacker for the Pine City Dragons.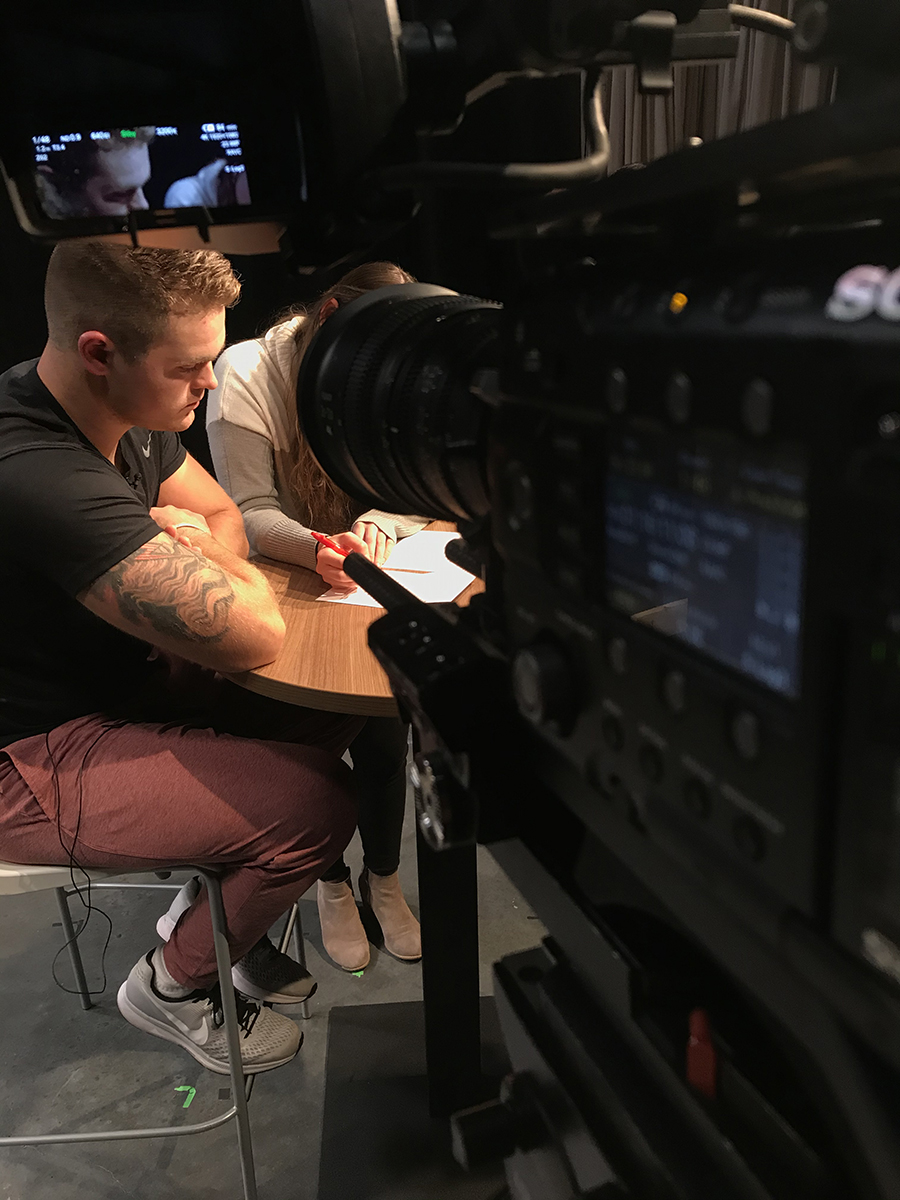 Keif Oss, senior lecturer for the video production program, said Clark was an impressive student. "Not just his innate abilities in video production, which he did have an eye for, but also his work ethic and passion to develop himself," Oss said.
"Connor never had the attitude of having already made it, despite producing work that was clearly at a leading level amongst his peers. He had a humble mindset, while also valuing his work and striving to bring a noticeable edge to its quality. His humble, approachable nature also made him an asset in production teams in my courses. Connor proved to have leadership ability, while making everyone in his team feel included and appreciated," Oss said.
Oss said he was ecstatic when he heard Clark landed the Vikings position. "Talk about a high visibility position immediately out of school. It's the kind of organization with the media budget and production value needs that Connor would be suited to produce content for, which I imagine is very satisfying for him."
Tongue-in-cheek Oss said his only regret is Clark may in some way, although not intentionally, make the Vikings look better than the Packers. "That would be a transgression for which I'm not sure I can ever forgive Connor for," he added, jokingly.
At UW-Stout Clark took part in the study abroad program, traveling to New Zealand and Iceland. He was also the university social media videographer, which helped him prepare to work with the Vikings. The position was part of the university's strategic planning initiative  to increase the number of opportunities for first-year students to work on campus to increase student retention. In 2018-19 a total of 80 jobs were funded and in 2019-20 a total of 54 jobs are funded.
"I'm definitely grateful for everything Stout has provided for me," Clark said. "I definitely wouldn't be here without my four years at Stout."
Clark made his first video in fourth grade of highlights from playing football in third grade. "It's kind of funny how it came full circle," Clark said. "I love that I'm on a field filming. I'm refining the product that people are entertained by. It's very dynamic."
Michael Heagle, an assistant professor in the entertainment design program, said Clark is extremely positive and always up for a challenge. "He has a real love of the hardware and technology side of video and has a real eye for photography and high definition image-making," Heagle said. "He's traveled a lot and loves shooting the real world and capturing an uncontrolled event – what could be better than applying that to a pro sports environment?"
With the upcoming Vikings-Packers game, Clark said his team is already preparing content for the game. "We know it is a big game for us," he said. "It's one of the biggest games outside of the playoffs. It's the biggest rivalry of the season."
Some of Clark's videos include Bold, Minn., being named the Minnesota Football Town of Year,  Vikings "My Cause My Cleats" and on player Austin Cutting penning a letter to astronaut Buzz Aldrin.
The entertainment design program recently was ranked No. 1 in Wisconsin by Animation Career Review.
###
Photos
Clark creates video footage of events the Viking are involved in or interviews players.
Minnesota Vikings player Austin Cutting during a shoot for social media footage on writing a letter to astronaut Buzz Aldrin.