Many small, rural newspaper need help trying to cover news, write features, take photographs and lay out the publication.
Kate Roberts Edenborg, University of Wisconsin-Stout associate professor in the professional communication and emerging media program, teaches journalism courses. She's watched and worried about the state of local journalism. At the same time, she knew she had students hungry for writing experience.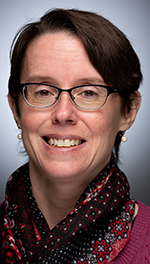 Edenborg came up with the idea of using jobs program funding from UW-Stout's Planning, Assessment, Research and Quality to help retain first-year students and funding from the Menard Center for the Study of Institutions and Innovation to help pay students to write for smaller newspapers.
Students are working with the Courier-Wedge in Durand and Chippewa Valley Post in Eau Claire, with funding from the Menard CSII.
"The idea for this came from my knowing that the local newspaper publishing staffs are shrinking, yet there is a need for content," Edenborg said. "Students can get paid while they are interning through this funding. It's a win-win in my mind. The students are getting professional experience while still in school. Papers are going to get content. I would have loved this experience as a college student."
Molli Reeder, of Dayton, Minn.,  a senior PCEM major, is working for the Courier-Wedge this spring semester and summer.
"When I first heard about the possible idea of working for a publication, I thought it would be a great way to get my name out there, as I also have applied journalism tacked onto my major," Reeder said. "I think getting real-world experience will help me gain insight on what it is like to be a journalist. This is a great experience. As a student it provides me the opportunity to work with a publication outside of the school and establish connections for postgraduation."
Debra Fisher, Courier-Wedge editor, said an extra set of hands is always needed in a newsroom. The newspaper covers the city of Durand, Pepin County and the village of Plum City.
"I am most looking forward to working with someone from the younger generation who can give a fresh perspective to print news," Fisher said. "I am hopeful that Molli will bring concepts to the newspaper that will help to keep the Courier-Wedge relevant to our subscribers."
Reeder, who started Feb. 10 at the Courier-Wedge, has written some feature articles, Fisher said.
"Since the beginning of 2020 the Courier-Wedge has been delivering features about our local government departments, what they do and how they serve the taxpayers of Pepin County. Molli had expressed an interest in land conservation and tourism, so that is where she will start. Molli will also rotate through sports, school events and city government."
Dominic Yates, of Eau Claire, a sophomore PCEM major, is working at the Chippewa Valley Post, a digital publication. "I wanted to do work at the Post because I believe that journalism is my future," Yates said. "I love to write articles, and I think that the Post is the perfect place to start. I'll be focusing on stories involving nonprofit organizations and initiatives. However, I imagine I will write on an array of different topics. I think that this internship is invaluable for a student like me because it gives me firsthand experience in the journalism field."
Tim Shiell, director of the Menard CSII, said Reeder and Yates are the first students to make use of the center's new internship program.
"With freedom of the press being one of the most important civil liberties, and with Kate's proposal being so solid, the two external reviewers both gave it a big thumbs up," Shiell said.
"The students will do a reflection paper at the end of their experience on what they learned about civil liberty, but the real kick is the practical experience they will get exercising their civil liberty working with and writing for local media. It is right in line with Stout's hands-on, minds-on learning," Shiell said.
Edenborg also believes having younger voices write for the digital or traditional print media will bring a fresh perspective and allow students the opportunity to work in area communities and learn more about them.
Edenborg will mentor the students as they write the stories, sometimes editing the articles if needed. "I hope that we are able to bolster local journalism in the area," Edenborg said.
###
Photos
Kate Roberts Edenborg