A Q&A with one of the 1,319 students who received a diploma May 4 at UW-Stout:
Name: Katie LaBuda
Hometown: Menomonie
Major: Special education
Awards, honors: Cum Laude, Chancellor's Award 2016-2019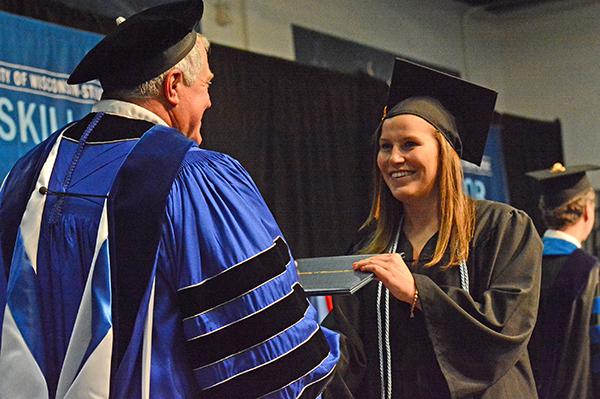 Why did you choose UW-Stout? After looking at many different universities that had special education programs, I felt that UW-Stout had the program that would best prepare me for my future career. I loved that Stout's program was K-12 and cross categorical. That way I didn't limit myself in what I could teach.
What are the biggest obstacles you faced in earning your degree? One of the biggest obstacles was taking all the tests that are required to become an educator. I am not a very confident standardized test-taker so going through the Praxis and the FORT tests were very stressful for me, but with lots of studying and support from my professors I was able to pass the tests. 
What stands out among your college experiences? The best experiences I have had at UW-Stout were all the relationships I have built. I have made lifelong friends here at Stout. I have also had some great connections with some of my professors. I felt like they really took the time to get to know me as a person and not just a student. These instructors taught me lifelong lessons that will set me up for success in my future endeavors. 
What's next? I have accepted a job teaching K-2 special education at River Heights Elementary in Menomonie. I am so excited to have my own classroom and start this next chapter of my life.