New energy-efficient lighting being installed this summer at University of Wisconsin-Stout is expected to save the university nearly $89,000 a year in energy costs.
Light-emitting diode — LED — lighting is being installed in 10 buildings and outdoor locations such as parking lots and walkways and some outdoor wall packs on residence halls.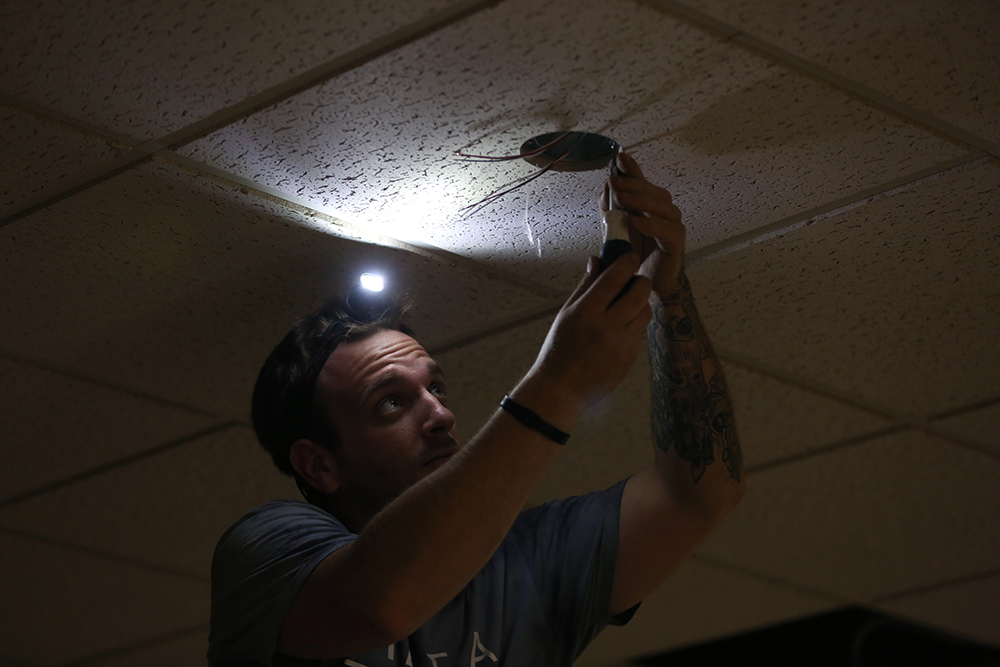 Buildings getting a nearly full retrofit with new interior fixtures and lamps include: Bowman Hall; Robert S. Swanson Library and Learning Center; University Services; and General Services. Corridor lighting is being replaced in Fryklund Hall, Vocational Rehabilitation, Applied Arts, Communication Technologies, Jarvis Hall Technology Wing and Sports and Fitness.
The project started May 1 and is expected to be completed by mid-August, according to Zenon Smolarek, UW-Stout assistant director of facilities and co-chair of the Campus-Wide Energy Committee.
The $1.5 million project is funded by the UW System. The general contractor is H&H Energy Services of Madison. The project received $83,414 in incentives from the statewide Focus on Energy program.
The estimated payback is just over 15.9 years and will save the university $88,946 per year in energy costs.
"It saves money, " Smolarek said, noting it has probably been 15 to 20 years since lights have been retrofitted. "Some people say the bulbs are more welcoming. The light quality is better. Outside we are able to do more direct lighting so there is less light pollution from stray light."
UW-Stout Sustainability Coordinator Sarah Rykal, who co-chairs the Campus-Wide Energy Committee, said the new lighting uses less energy, which is better for the environment and more sustainable. "It reduces greenhouse gas emissions, which is one of our goals as a campus," Rykal said.
Smolarek thanked faculty and staff who have had to be flexible as new lighting is installed in buildings and have had to keep areas clear as fixtures and bulbs are being replaced.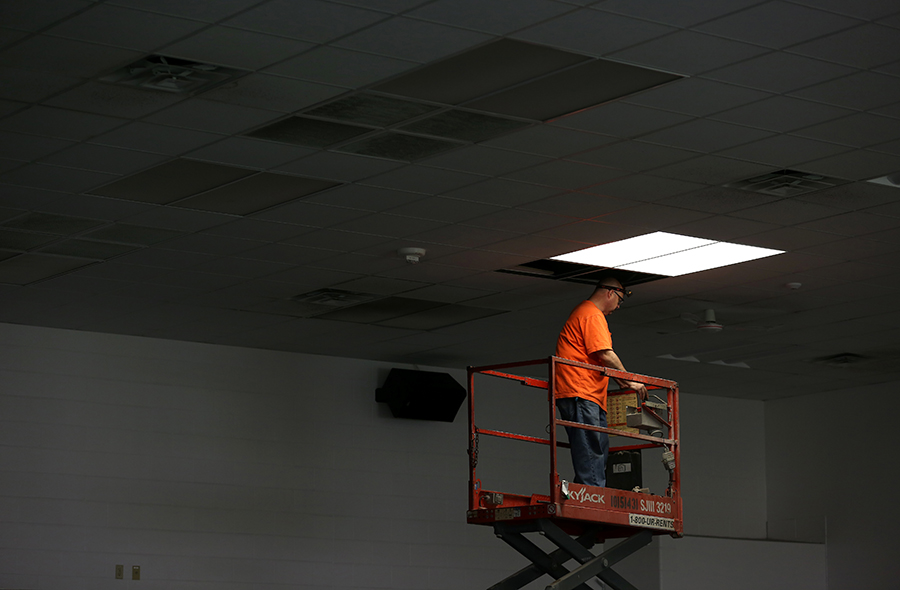 According to the International Dark-Sky Association, which works to protect the night sky for present and future generations, nearly 30 percent of all outdoor lighting in the U.S. is wasted through use of inefficient lighting methods or sources, which adds up to $3.3 billion and the release of 21 million tons of carbon dioxide per year.
To learn more about sustainability on campus, go to the Sustainable Stout website. In September, UW-Stout was named one of the top "green" colleges in the U.S. by Princeton Review, an education services company. UW-Stout also offers sustainability-focused undergraduate and graduate degree programs.
###
Photos
The new energy-efficient lighting being installed this summer is expected to save the university nearly $89,000 a year in energy costs.
LED lights are being in stalled in 10 buildings and at outdoor locations across campus.