Jon Rzeznik, of Watertown, graduated in December 2020 with a Bachelor of Science in information and communication technologies. He didn't take the traditional route to his degree, however.
He returned to school in 2019, 15 years after he originally enrolled at UW-Stout. He was married and working full time as a network operation center engineer at INOC in Madison. Two years later, on Dec. 19, 2020, he was the featured student speaker at UW-Stout's virtual commencement.
Q: What was the path you took to earn your degree?
A: I started out here as a traditional freshman in the class of 2004 with a declared major in packaging. I struggled and lost interest in that, deciding that it would be cheaper to attend a two-year UW College near where I lived in southeast Wisconsin. I received an associate degree there in 2006 but languished in no small part over the coming years; the recession didn't exactly help.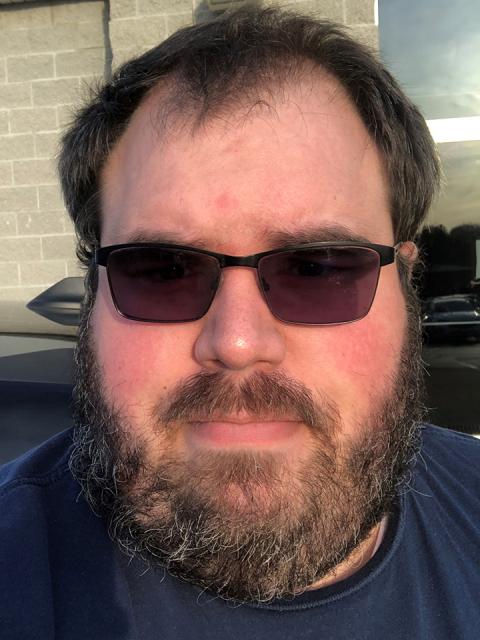 My folks noted my interest in computers, and I went to Waukesha County Technical College, where I got a second associate degree in 2012. I spent time in the civil service, and then with Act 10 layoffs I decided to consult and hung on by providing expertise on a case-by-case basis.
After I met my wife and we began to settle down, I realized that the time was right to finish my education and move forward. An additional job at a grocery store for benefits was going nowhere. Stout was the logical choice, and I came back early in 2019. 
Q: Why was it important for you to return to school?
A: Put simply, to improve myself and the prospects for my family. In this, I have a role model who showed me from an early age how important it is to never give up on dreams of education. My dad was one who long believed, and still does, that education is an investment.
When I was growing up, I saw him finish his bachelor's, master's and Ed.D. degrees as a nontraditional student. He started out blue-collar on the pressroom floors and worked his way up to the offices and classrooms at Quad, then teaching as an instructor at Moraine Park Technical College. He is now an associate dean at WCTC and has been an inspiration to finish my education even when things were tight, or the economy was bad. He saw it as a way that someone can attain and continue the American dream, which is exactly what I want for my wife and future family. His example became one for me to follow and one that I continue to follow.
Q: What has your experience been like as an online student?
A: I've benefited enormously by being able to finish my degree online in the comfort of my own home and do much of the coursework on my own schedule. This is especially important as I work second shift and live about 230 miles away from campus. The online option means that I can still benefit from the coursework but yet be able to do it in a way that works with my schedule and still balance commitments to work, school and family.
At the same time, I won't lie and say that's always been an easy experience — online courses are more difficult, particularly when they're asynchronous. Many people still think that online courses are easy or breeze-through and consequently online learners don't have "real degrees." I do want to be honest. It requires a lot of tenacity and discipline and drive to follow through, as it's all too tempting to cut corners, procrastinate and/or slack off. With courses going online due to COVID, it's becoming clear that the material is just as rigorous as if I were in a classroom. 
Q: What's next?
A: I am continuing my education at the University of Cincinnati by way of their online Master of Science in information technology program.
###