Journalism and a traditional Japanese haiku may not seem like they have a lot in common, but for University of Wisconsin-Stout students the three-line poem helped teach them how to write concisely and interview people with little or no preparation.
Kate Roberts Edenborg, associate professor in the professional communication and emerging media program, taught the Writing for the Media class last fall. She said students often are challenged by talking to people and getting to the point quickly in their writing.
She decided to have the class go to the Menomonie Farmer's Market and interview people there, including vendors.
"Having my media writing students go to a community event and talk to people they didn't know in a welcoming setting was a good introduction that eases them into the interviewing process," Edenborg said. "It also gets them into the community. The format of a haiku is so brief that they really need to pay attention to word choice and brevity."
The haikus are on display at the Raw Deal, 603 S. Broadway St., in downtown Menomonie through April along with pictures taken by Menomonie Farmer's Market staff of the market. The summer farmer's market will run Wednesdays and Saturdays from Saturday, May 11, through Saturday, Oct. 12. The winter market is at the Raw Deal on Saturdays through April 20.
Haikus typically have five syllables in the first line, seven in the second and five in the third. Generally, they don't rhyme.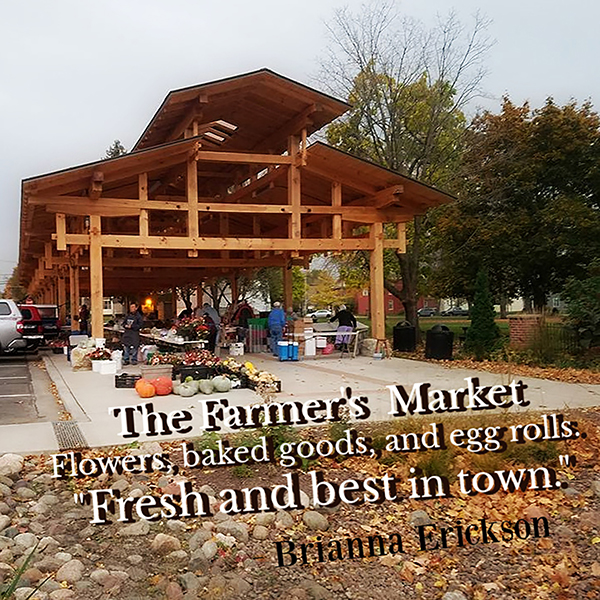 A haiku written by PCEM sophomore Audrey Tchaa of St. Paul was:
   Showery autumn
   A fresh, organic setting
   a community
Tchaa found she had to step outside her comfort zone for the assignment. As a writer for the Stoutonia student newspaper, she usually emails people to set up interviews. "With this assignment, I kind of had to do it on the fly," she said.
"I learned it's not hard to step outside your comfort zone, it's all mental. Once you stop freaking out, you'll be OK. Another thing I learned is to embrace your community and see what's not just inside your circle but outside as well," Tchaa said.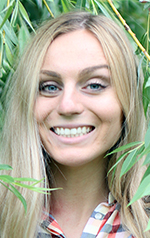 Student Rachel Hughes, a sophomore PCEM major from Genoa, said she enjoyed taking a break from the classroom and going into the community.
"This assignment showed me how fun and creative writing about an event can be," Hughes said. "I often get burned out from writing the same type of articles and memos all the time, so shifting to poetry for a day reminded me there are so many ways to express my ideas."
Her haiku is:
   Since year two-thousand
   men selling their goods and time
   in the cool fall air
Hughes and Tchaa said they were pleased to have their poetry up at the Raw Deal. "Writing isn't about recognition, but it sure feels good when it's showcased and appreciated," Hughes said.
###
Photos
Haikus, three-line poems, were created by a UW-Stout writing class about the Menomonie Farmer's Market.
Rachel Hughes