When his father lost his sight from diabetic complications and ended up using a wheelchair because he didn't know how to use an assistive cane, Kyle Walker learned firsthand the impact a disability can have on a person's life.
Walker, the Stout Vocational and Rehabilitation Institute executive director, saw his father, Merrill, become more disabled and not able to work.
That experience, in part, encouraged Walker to work in the vocational rehabilitation field. Prior to starting at SVRI in February 2019, Walker spent upwards of 20 years in direct service and management of rehabilitation and counseling services to citizens in Utah and in South Carolina.
As he discussed his background recently, Walker noted: "People are coming to me at one of the lowest points in their lives," he said. "I can send them to college. I can help them connect with a job. I can help pay them. I can help them get the assistive technology they need. I can help in a way that helps make a disability less of an impact on their lives.
"Work is identification," Walker said. "It's where we connect with our community. Many of us make friends there."
Walker came to University of Wisconsin-Stout from the South Carolina Commission for the Blind in Columbia, S.C., as the Division of Consumer Services director. Prior to that, he worked in a number of positions at the Utah State Office of Rehabilitation in Salt Lake City, most recently the division director of rehabilitation services. He has a master's degree in rehabilitation counseling and a Bachelor of Science degree in sociology from Utah State University in Logan, Utah.
SVRI serves as a leader to advance innovative programs and practice in disability and employment through partnerships in research, training, education and services. Services provided include vocational assessment and evaluation, assistive technology, benefits counseling and driving assessment.
SVRI partners with the Wisconsin Division of Vocational Rehabilitation to recommend eligibility for DVR services. In 2018, there were just under 10,000 DVR referrals, each taking about 24 days to determine eligibility.
A new initiative involving Self-Employment Outreach across the state of Wisconsin is another partnership with DVR. SVRI is a collaborator with Wisconsin PROMISE, a project to help support teens and their families who receive Supplemental Social Security Income to achieve their educational and career goals as they transition from high school.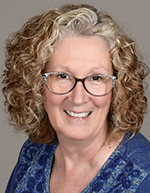 Mary McManus, associate executive director of SVRI and who has served as interim executive director, said Walker's experience is an excellent fit for SVRI.
"Everything we do here in the department is working with people with disabilities who want to work and to get them into the workforce," McManus said. "This is what happens with the services area, operations and support, grants, training and technical assistance. We are all on the same page. Kyle Walker connects really well with people. He's a problem-solver. He's always looking for the best in people. It's just a joy to work with him."
Throughout his career, Walker said he worked with many UW-Stout graduates. He knew that when the executive director position opened, he wanted to work at SVRI. "I really think Stout is a great university," Walker said. "It has such a good reputation in my profession."
Of the close to 50 staff members at SVRI, nearly all are UW-Stout graduates, he noted.
Walker's goal is to work within SVRI to improve and enhance services, pursue innovation via grant and technical assistance projects, and make available staff training opportunities at local, regional and national levels.
"Our work is about meeting the needs of persons with disabilities who want to develop skills and find careers they enjoy," Walker said. "We want to lead the charge to aid persons with disabilities as they change their lives."
SVRI collaborates with the academic department of rehabilitation and counseling, offering student internships, classroom presentations and opportunities for professional development outside of the classroom.
UW-Stout offers a Bachelor of Science degree in rehabilitation services and a master's degree in rehabilitation counseling. The bachelor's degree offers concentrations in independent living rehabilitation, psychiatric rehabilitation, rehabilitation service specialist, social work and substance abuse counseling.
###
Photos
Mary McManus