Commencement is a time of celebration. A time when graduates reflect on all they've accomplished and all that awaits ahead. A time for families, friends and supporters to share their pride in their students and welcome them to a new stage in their lives.
For brothers Abdul and Karam Mounir, crossing the commencement stage together symbolizes the strength of their family, which journeyed to Wisconsin from war-torn Syria. It also symbolizes their fortitude and opens opportunities to repay their parents for their unwavering support.
On Saturday, Dec. 17, they will graduate from UW-Stout – Abdul with a Bachelor of Science in information and communication technologies; and Karam with a Bachelor of Science in computer networking and information technology.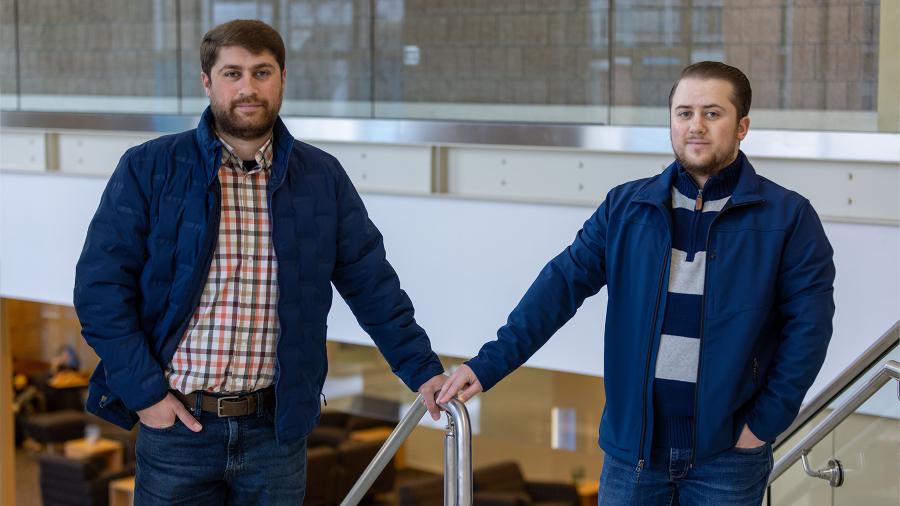 Mandy Stasiek, adviser and financial literacy coach with UW-Stout's TRIO Student Support Services, said, "Theirs is a story of great inspiration and highlights how the human spirit can overcome tumultuous challenges."
'People are stronger'
In 2011, when civil war broke out in Syria, people quickly found themselves without electricity, gas, food or water. The Mounirs, who lived in the capital of Aleppo, stood in line for hours every day, waiting for a gallon of water that was not always clean. One gallon would have to last their family of six all day for cooking, drinking and cleaning. What food they could find was expensive, and if they had to leave the city to find food, they risked being taken by ISIS and other terrorist groups.
Eventually, the government shut down the city. It was not safe to be out after dark. Snipers targeted civilians in the streets, and terrorists took young men and forced them to join their ranks.
Abdul and Karam's father, Amer, had a textile company, supporting his family. But the building was ransacked by terrorists, who often kidnapped business owners for ransom. Amer eventually closed his business because he too was at risk of being taken.
"They kidnapped teachers too," Abdul said. "Schools shut down because of the terrorists. The government told students they could still attend school but at their own risk. I was in high school. There were days when bombs exploded outside of the building, breaking windows in classrooms."
To continue to support his family, Amer, along with an uncle, opened a food market in what was considered a safer part of the city. The market too eventually closed because of the war.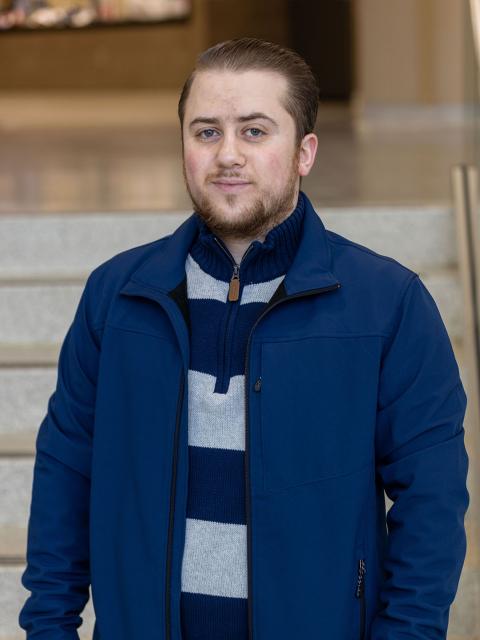 "But people are stronger than the terrorists," Karam said.
In May 2014, Amer left Aleppo to find work. Karam, who was 16, went with him. His mother, younger brother Omar and younger sister Aysha remained while Abdul finished high school.
Amer and Karam traveled to Bursa, Turkey, where they had relatives. But roads were closed because of the war. They had to take multiple taxis to reach their destination – where one driver would go no further, they had to find and hire another. The drive took nearly 14 hours.
In Bursa, near Istanbul, they found work in a paper factory. Neither of them spoke Turkish.
They communicated with others using mostly hand gestures, Karam said. Gradually, Karam learned to speak Turkish, a difficult language to learn, Abdul added.
For weeks, Amer and Karam slept in a park because they couldn't find an apartment to rent. Later, with the help of a realtor, they found a house, and their manager at the paper factory paid their first month's rent. Karam worked for a month with no income to repay him.
"We had just $50 in our pocket," he said. "My daily lunch was at work. And during the weekend, I had the sweetest neighbors who were knocking on my door and inviting me to their houses to have lunch or dinner."
A family reunited
In July 2014, Amer returned to Aleppo while Karam remained in Turkey. In August, Abdul graduated high school, and the family immediately left Aleppo for Bursa.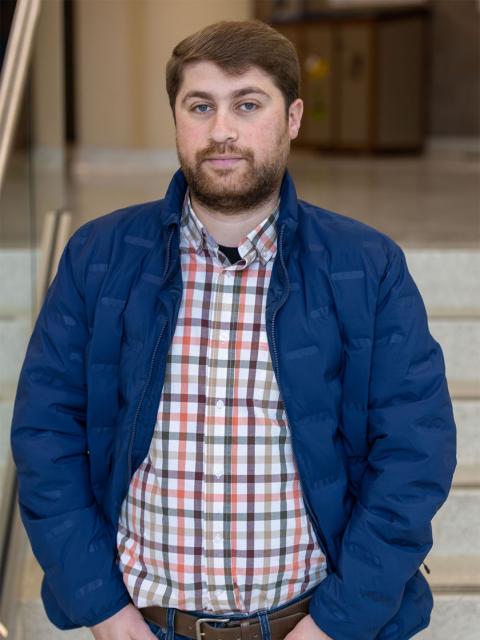 "That's enough, we said. It's time to leave. We didn't want to be involved in the war," Abdul said.
Leaving the city, however, was dangerous. ISIS and other terrorist groups had infiltrated the countryside. Their mother and Aysha needed to wear burkas, fully covering their bodies and faces, with only their eyes exposed to light.
The Mounirs were reunited in Bursa. "Within a week after my family arrived, our house in Aleppo got bombed. Thank God my family was in Turkey, safe," Karam said.
But "there was no part-time work in Turkey, as the culture values work over higher education," Abdul said. "If you work, you don't go to school. If you go to school, you don't work."
For two years, the family stayed in Turkey, applying and interviewing with the U.S. Citizenship and Immigration Services office. They could choose between immigrating to the U.S., Canada or Australia. Amer chose the U.S. because an uncle had lived in Wisconsin for 40 years.
The family completed six to seven interviews as part of their immigration process and arrived in the U.S. in September 2016. As of March 2022, roughly 5.7 million Syrians have fled the country, and more than 6.7 million people are displaced internally.
"When we arrived in the U.S., it was like starting all over again," Karam said.
The Mounirs made their new home in Rice Lake with the help of Marlene Gargulak, a Rice Lake Rotary Club member, whom they met through their case worker with the immigration office. She helped them find a home to rent.
"Marlene is like a mom to us, and she helped us also to go shopping once a week while we didn't have a car," Karam said. "She was the reason I started to go to Rice Lake High School and continue my education. I can't thank her enough."
Abdul and Karam both worked full-time in housekeeping at Marshfield Clinic in Rice Lake and Eau Claire and at McDonald's to support their family.
Karam was 19 when he started his junior year in high school. He learned English from the English as a second language teacher.
Abdul learned English by speaking with people he met and using Google Translate. After taking an English placement test, he enrolled at Northwood Technical College in Rice Lake. He earned his associate degree in cybersecurity in 2020.
A goal of higher education
Abdul and Karam wanted a higher education and began their college careers at UW-Stout in September 2020, choosing ICT and CNIT – degrees that matched their interests but were similar enough that they could help each other if needed. The family moved to Menomonie.
"Our parents raised us. Dad had supported our family. Now it's our turn to repay them both," Karam said. "Abdul and I were originally going to live in the residence halls, but Dad said the family wouldn't be separated. He told us, 'We haven't been separated before, and we won't be separated now.'"
"It's part of our culture that we stay together," Abdul said. "We never move far from our family, even after marriage. And even then, we continue to visit our family often. In Aleppo, Dad would visit his mother every day before going to work at his textile company. He would kiss her hands in greeting. It is custom – a sign of respect from the bottom of your heart. We respect our parents."
Their siblings, Omar and Aysha, are attending UW-Stout as well: Omar is a junior in engineering technology; and Aysha is a first-year student in applied science, pre-optometry.
"It feels good to be attending here together, but it's sad not to see each other in classes," Karam said. "It feels very safe in Menomonie. Everything feels familiar. I imagine that I've been here before."
Prepared to begin their careers in IT
Karam's time at UW-Stout helped him discover his goals, values and "what type of person I am. Having a new perspective on things has helped me gain more responsibility and take accountability for my actions," he said. 
He knows "not everyone comes to college equally prepared. I wasn't ready financially when I started attending UW-Stout. I am new in the country, rebuilding myself. I believed in myself that I can do it and worked hard on my classes, handling two jobs to support myself and my family. And I did it."
Karam feels proud to graduate with a strong grade point average and strong experience in CNIT. "I believe that Stout has given me the ability to go wherever I want in any place in the world and get a job in my role," he said.
He believes his professors care about their students and their education. And the up-to-date equipment in the CNIT labs helped give him relevant, hands-on work experience to prepare him for his internship as an IT specialist at OakLeaf Surgical Hospital in Altoona.
Karam also worked on campus in the TRIO office supporting IT even as the advisers supported him and his siblings. "Jamie, Matthew and Gabrielle were very helpful," he and Abdul agreed.
Karam began his career before graduation. He is a hardware technical support specialist with Idexx Laboratories in Eau Claire, working remotely in technical support and supporting the end user. He plans to continue his education and earn his master's degree.
Abdul completed his co-op as a field service technician with Spectrum last summer and would like to be a software and hardware engineer and work in cybersecurity. He is interviewing to be a lead technician in IT with AdventHealth in Durand.
"Graduating feels like a very great accomplishment," Abdul said.
Between November 2021 and January 2022, Abdul, Karam and their family received their U.S. citizenship. "I am proud. I am truly American now," Karam said.