"Having two of our students accepted into Minority Fellowship programs is aligned with the values of our MFT program to promote and enact social justice," said Program Director Heather Hessel. "We're proud of Cindy's and Sammy's commitment to working with underrepresented communities. They show thoughtfulness and intentionality in their clinical work and demonstrate dedication to providing culturally sensitive mental health services to diverse communities."
The fellowship programs offer participants a one-year stipend, professional guidance in their research of services to minority and underserved populations, training and professional development opportunities at workshops and conferences, and lifetime access to the network of fellows.
Associate Professor Candice Maier, director of UW-Stout's Clinical Services Center, believes it is important for therapists to adopt "cultural competence, or cultural humility, as an approach and journey that can help facilitate a strong working rapport between therapist and client, leading to better therapy outcomes," she said.
The fellowships are awarded through a federal grant from the Substance Abuse and Mental Health Services Administration.
Cindy Vue: A foundation in advocacy
Vue's background is in social justice and advocacy. She has a Bachelor of Arts in cultural anthropology from University of Minnesota-Twin Cities. She worked and volunteered as a camp counselor for YouthCARE Camp Sunrise for 14 years, counseling 13- to 18-year-olds.
"It was one of the only camps that embraced such diversity – gender, race, religion. It showed me what diversity and representation can really look like for organizations," said Vue, of Minneapolis.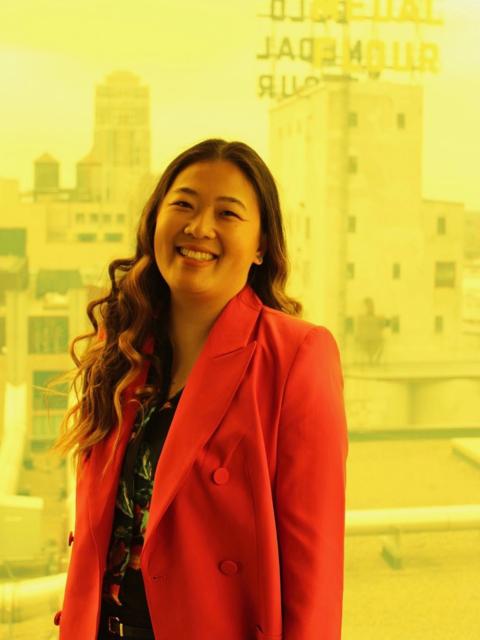 Vue also did transportation advocacy with Our Streets Minneapolis, representing underserved and BIPOC (Black, Indigenous and People of Color) communities and creating awareness in how streets and infrastructure shape people's lives.
"We looked at systemic issues, like are roads pedestrian and biker friendly, are sidewalks wheelchair friendly," she said. "Our streets can shape the way we feel about our bodies and how others feel about us, and how our lives are impacted by that."
Vue wanted to transition her skills while continuing to serve the community. In talking to a friend who was a UW-Stout marriage and family therapy alum, she learned that the MFT program is focused on systemic thinking.
"The MFT program aligns with my passion for advocacy and what I wanted to learn. It propelled me to think about the mental health of families, couples, groups and individuals who are trying to build healthy relationships," she said. "What can we do to communicate better with each other? The MFT program will help me my whole life. It will benefit me as a human being and the communities that I work with."
Vue looks at cultural competence as a journey of understanding – as the continuation of change and environments in society shift how people think about cultures. She looks at her own Hmong culture in the colonized country of the U.S., and how the Western-way of looking at mental health differs from her culture.
"Cultural competence is an understanding of how to include people's cultural and religious backgrounds, race or gender, holistic healing and support for their life into the services they need," she said.
Vue is most looking forward to connecting with APAIM fellows from around the country to learn about their experiences and glimpse into the wisdom they provide to the mental health field. Fellowship orientation is over four days in October in Atlanta.
"It's very important to build connections between therapists and advocates," Vue said. "A client can need a multitude of support, and this interconnection helps us work together to continue to provide support."
She's also looking forward to working on a research project with assigned cohort members, considering a community project, key stakeholders and organizations to address behavioral health disparity in diverse populations of color. She will travel next summer to Seattle for an interdisciplinary institute and to present research to fellows and alumni.
The fellowship stipend will help support Vue as she completes her clinical practicum as an MFT intern at Kente Circle. Based in South Minneapolis, Kente Circle is a mental health agency providing culturally sensitive services to diverse communities.
Vue will work 20 hours a week with individuals, couples, families and groups. She also will work with adolescents at a North Minneapolis school. With more than 14 years working with the youth population, Vue is excited to work with kids again, she said.
As a yoga instructor in an outpatient program with MN CarePartners in St. Paul, Vue plans to build mind/body exercises into her practicum work with youth at Kente Circle.
"Connecting our mind and body can ground somebody and show them how they can build change in themselves and in their lives," she said.
Vue chose Kente Circle as her practicum site because it is BIPOC-owned and run. Larry G. Tucker, CEO and co-founder of the agency, is a UW-Stout marriage and family therapy alum and serves on the program's advisory committee.
"There is an experience and lens of inclusivity that is different, and there aren't a lot of mental health organizations that have that," Vue said. "This is important to me. When I was doing advocacy work, all I heard about was Kente Circle and the wonderful work they do for the BIPOC community. I think it's a good place to work at."
Vue will graduate in August 2024. With the fellowship, she will commit an additional two years, prelicensure, to serving in a minority community – possibly at Kente Circle.
Muhammad Samim: Helping others through trauma
Samim, of St. Paul, is the youngest of six siblings. His brothers and sisters are in the scientific and education fields in Pakistan. His family is from Jammu and Kashmir, a region torn by conflict. Reflecting on the traumas his family has suffered, Samim has also faced discrimination in the U.S.
"I have seen Islamophobia and systematic racism. There must be a line of mutual respect between people," he said. "I moved here for a better life, and when I see people discriminated against because of their skin color or religion, I wonder will my future children be able to have a life free of discrimination. This is why I want to work in the counseling field – to help people."
Samim's family's story begins in Jammu and Kashmir, an independent state until 1947 after the Partition of India, when British rule ended. Conflict broke out between Muslim-majority Pakistan and Hindu-majority India over rule of the region.
"Those responsible in the British government for drawing the Partition line knew nothing about the peoples of Pakistan or India or about their religions," Samim said. "Two million people were murdered and 20 million were displaced. It was the largest mass migration seen in the modern world at the time.
"My grandfather's sister was lost, and my grandmother witnessed her father and family beheaded. She was pregnant with my dad. She swam across the river to escape to Pakistan. The river was full of blood and human bodies," he said.
Samim heard these stories from his grandparents and inherited their generational trauma, trauma that extends from one generation to the next, beginning when a group experiences a traumatic event and who then develops physical or psychological symptoms. Later, he realized genocides in Western civilizations, like the Holocaust, are talked about but the atrocities in British colonies are not known, he said.
The United Nations passed a resolution to decide whether people wanted to join Pakistan or India, but the resolution failed. "I am a legal citizen of Jammu and Kashmir, but which is not recognized as a country. We are an unlucky people who do not have a country," Samim said.
Samim moved to Lahore, Pakistan, where he attended high school and learned about modern psychology, as well as sex education, a topic not talked about in the conservative society.
Samim's trauma was compounded during this time when war started in Afghanistan after 9-11. He survived many attacks by suicide bombers and received death threats on his phone if he attended school. He witnessed similar violence and discrimination as his grandparents had observed in 1947.
He continued his education, nonetheless, and earned his bachelor's in clinical psychology and completed his internship at Mayo Hospital and Government MAO College in Lahore. He went on to earn his master's in a quite different field, information technology and project management, and he moved to the U.S.
But when the pandemic hit and people found themselves isolated and within a new mental health crisis as counseling offices closed in-person services, his family and friends came to him for help. Even though he reminded them that he did not have his license and could not offer any advice, they still wanted his therapeutic support. He offered them free listening sessions.
When Samim's dad passed away in 2020, he could not return home to attend his funeral because of COVID-19 and Visa restrictions.
"I could not give my mom comfort," Samim sadly said. "My role as the youngest in my family is to be the one they talk to and to help resolve family conflict. I am the glue that makes them stick together."
Samim realized that instead of giving free, unlicensed therapy, he should go back to school for his master's and accomplish his dream of being a licensed marriage and family therapist and sex therapist to help people in their relationships.
With his fellowship, Samim is looking forward to learning more about how to treat mental health for immigrants, refugees, Muslims and people of color.
"Within the South Asian and Muslim cultures, the second and third generations in the U.S. are a huge population. The India diaspora is huge in the U.S. But there are taboos regarding mental health. They don't go to therapy. They don't bother with health issues," he explained. "I am interested to work with this population and learn scientific methods and treatments that will help these communities.
"Many children are confused between two cultures," Samim said. "Muslim families have difficulty understanding Western culture and making their own cultural and religious space in American society. I am interested to understand these cultural issues and trauma and learning competency in counseling."
Samim will graduate in May 2024. In 2022, he began a nonprofit mental health agency, Voice of People of Color. To help to reshape people's lives, he is working to build a software program with a knowledge base to people find the therapeutic resources they need.
UW-Stout's master's programs in marriage and family therapy, clinical mental health counseling, school counseling and school psychology are scheduled to relocate to Heritage Hall after the hall's upcoming renovation. The project includes the demolition of the 1954 portion of the Vocational Rehabilitation Building, where the four programs as well as the Clinical Services Center, are housed. The center has offered community members affordable counseling services by graduate students since 1974. It serves approximately 1,000 clients a year.