Art and Design Week is a professional development event for students in the B.F.A programs at UW-Stout. The week is scheduled full of presentations, panel discussions, and workshops where students are able to connect with employers, design professionals, and alumni.
The week culminates with Portfolio Review Day when juniors and seniors meet one on one with industry professionals, to share their works and receive valuable feedback. For two seniors, although review day can be a bit stressful, it is also exciting and brings on vast opportunities.
Kat Klyve, an Entertainment Design major, and Emily Wettergren, a Graphic Design and Interactive Media major, shared their experiences of what the day is like and the years of preparation before.
Portfolio Review Day
The afternoon of the review, Klyve and Wettergren dress appropriately in business casual. Their portfolios are ready to show. Their resumes are current and relevant. Knowing the portfolio day was coming, the seniors have prepared their work to share gradually. Over the last two to three years, they have been vigilant in keeping on top of their works, adding to and editing their portfolios as needed.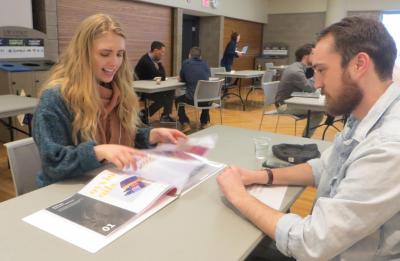 "I'm constantly trying to make improvements to my portfolio, so the preparation never ends," Wettergren said.
Klyve agreed on the importance of keeping her portfolio current.
"I have a website where I display my work and I'm always updating it with my most current projects," Klyve added.
Only having twenty minutes to meet with each industry professional, the seniors know how quickly the time goes. They are prepared to share and talk about their works.
"It's a bit nerve racking, I feel a bit tense," Klyve admitted. "But it's also exciting. It becomes easier when I get to start talking about my work because that's what I know best. I want to come off as professional as I can. My goal is for the reviewers to think I know what I am talking about and that I am prepared."
Wettergren jokingly described the day to be like speed-dating, in the rush of speaking with so many people in so little time. But even in the rush of it all, Wettergren admitted she is comfortable and excited to talk about the work in her portfolio.
Hopes and Expectations for Advice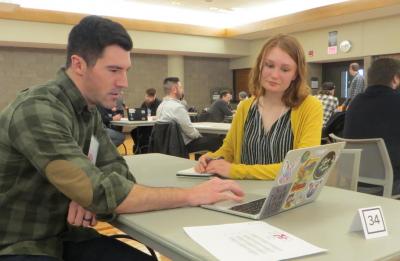 With so many different students from different majors attending Portfolio Review Day, the styles of portfolio presentations were numerous. Sitting down with their perspective professionals, Klyve set her laptop on the table to open different files and share her digital works, while Wettergren spread out her glossy three-ring binder full of print materials.
The seniors agree the more feedback they receive, the better. Helpful feedback and confirmation that they are producing good work is always anticipated. But it's hard to know what to expect during each meeting. They can only prepare questions for the professionals and hope for quality answers.
Wettergren's favorite pieces to discuss are ones she has done outside of class. She is always curious to hear back on those as Wettergren typically hasn't gotten as much feedback on them.
"You get such a different perspective than you do from professors," Wettergren said. "I mainly like to ask them for their initial reactions or if there's anything that stood out in a good or bad way. It's interesting which pieces stand out to different people."
While talking with one designer, Wettergren brought up a concern she had. She was worried her work looked too feminine or similar in style. The designer eased her mind.
"He said it's okay to focus in on one style over a period of time and get really good at that particular style," Wettergren said.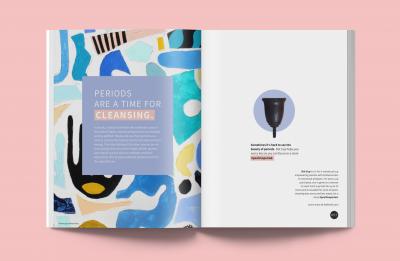 Wettergren even learned a little about her own preferences to her projects. All three designers she spoke with remarked they could tell her advertising campaign was her favorite project. They told her when she talked about it, she seemed most excited. Wettergren hadn't realized that before review day.
Klyve looks forward most to showing her 3D work and illustration and character design work. It is the work she most enjoys.
"I like to ask what they think are my strongest areas of work," Klyve said. "I know what I think so I like to get a second opinion."
"The biggest hope is to make a new connection with this person, or to stand out to them in hopes of a possible future internship or job," Klyve said. "In the design field, it's all about networking and connections."
What To Take Away
Portfolio Review Day is designed for students to receive feedback on their portfolios, resumes, websites, and works. It is great practice for preparing for interviews and conducting yourself in a professional setting.
"But," Klyve added, "it is more helpful to us to receive advice and critique so we can implement them and better our portfolios and be the best that we can be."