The Cybersecurity and Cyber Defense: Secure Software Development Certificate will provide you with a deeper understanding of cybersecurity and cyber defense expertise—one of the most urgent issues in our global society. Upon completion of the certificate program you will be able to:
Develop secure software (i.e., software that performs only its intended functions without the presence of exploitable vulnerabilities).
Apply formal security policy models to real-world scenarios.
Understand the vulnerabilities inherent in different programming languages.
Examine vulnerabilities introduced through the use of libraries and how to mitigate those vulnerabilities.
Apply security design principles.
Apply their knowledge to perform security analysis, using common tools, against previously unknown software components.
Find/identify vulnerabilities, determine the cause of vulnerability, and mitigate the effect on an operational system. 
The certificate program consists of the courses from B.S. Computer Networking and Information Technology, B.S. Computer Science and B.S. Information and Communication Technologies.  
This certificate is part of a new concentration in Cybersecurity and Secure Software Development within the B.S. Computer Science program. The concentration is designed to meet a proposed new pathway for student certification through the National Centers of Academic Excellence in Cyber Defense. 
Center for Cybersecurity and Cyberdefense
On October 6, 2017, the University of Wisconsin Stout was designated as a National Center of Academic Excellence in Cyber Defense for academic years 2017-2022 by the National Security Agency (NSA) and the Department of Homeland Security (DHS). UW-Stout is the first four-year university in the state of Wisconsin to receive this prestigious designation.
The National Security Agency (NSA) and the Department of Homeland Security (DHS) has certified that the curriculum of the Computer Networking & Information Technology (CNIT) program at UW-Stout meets or exceeds the requirements, as cited by the National Information Assurance Education and Training Program (NIETP).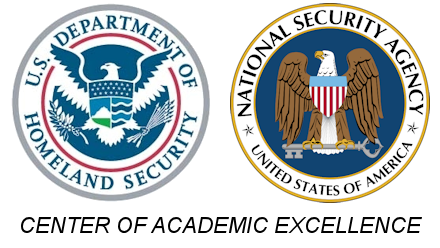 As a result of the designation, students attending cyber defense programs are eligible to apply for scholarships and grants through the Department of Defense Information Assurance Scholarship Program and the Federal Cyber Service Scholarship for Service Program.
Official letter of notification for the designation was sent to the university's administration, the Wisconsin governor, members of the U.S. Congress, and appropriate congressional committees.
This University of Wisconsin-Stout initiative serves to equip students to deliver excellence in the cyber defense field. The initiative includes serving as a National Center of Academic Excellence (CAE) in Cyber Defense Education, a program jointly sponsored by the Department of Homeland Security and the National Security Agency which the University is currently seeking.

Through dedicated faculty and support from administration, the cyber defense initiative provides a core structure whereby UW-Stout can help reduce vulnerability in our national information infrastructure. We accomplish this by a disciplined approach to course content and program guidance, communicating with industry about current cyber defense information, and by providing leadership through collaboration among students, faculty, and other institutions. We help produce outstanding graduates.

As "Wisconsin's Polytechnic University," our goal is to "offer high quality, challenging academic programs that influence and respond to a changing society." Through this initiative our graduates will understand key ideas such as data analysis, scripting, fundamental security and information assurance design, cryptography, ethics and compliance, programming, digital forensics, penetration testing, and much more. Preparing our students for these demanding responsibilities is of utmost importance.