Host a Co-op or Internship Student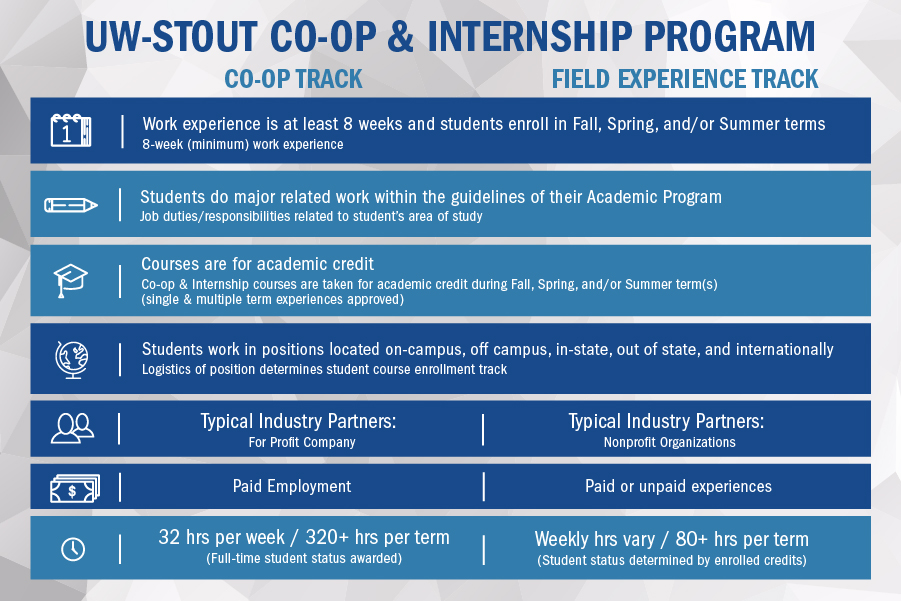 Additional Program Requirements
Supervision
Students are expected to gain practical experience in their field of study and should have a mentor and/or supervisor who has expertise in the same or similar field.
Location
Students are expected to work at the employer's office or project location.  
Classification
It is up to the employer to determine the proper classification for the student; however, UW-Stout does not support co-op students being hired as independent contractors.
Technology/Equipment
Employers are required to provide any technology/software/equipment the student will need to perform their job.
Benefits of Hosting a Co-op or Internship Student
Bottom line
Hiring a co-op or internship student is an effective way to develop high quality future employees while keeping cost down
Innovation
UW-Stout polytechnic approach allows students to bring innovative ideas, energy and a fresh perspective to the workplace
Year-around access
Our Co-op and Internship Program allows for employers to fill positions all year students can enroll any term or combination of terms (Fall, Spring and Summer)
Return on Investment (ROI)
Develop a pool of qualified candidates building a pipeline to potential professional employees with an improved employee retention
Partnerships
Engagement in our Co-op and Internship Program allows organizations an opportunity to develop deep partnerships with UW-Stout. Your feedback is essential to our academic program success. Many of our Co-op and Internship hosts serve on Program Advisory Boards.  
Responsibility of the Co-op and Internship Site Supervisor
Provide a supervised work experience related to a program offered by UW-Stout
Provide a position description relating to the program showing types of learning experiences and responsibilities. UW-Stout faculty mentors must approve the position for college credit. While the description can be brief, some specifics are very helpful
Select student employees through interviews or by evaluating applications
Communicate with student regarding work schedules, supervision, safety regulations, appearance, personnel policies and other procedures
Supervise and evaluate work performance of co-op student
Communicate with university mentors and co-op staff for purposes of evaluation and program improvement, or in the case of dissatisfaction with student performance
Provide a work environment free from discrimination and harassment
Provide a safe work environment
Salary
Our popular Cooperative Education is a paid work experience. Salaries should be fair, competitive and commensurate with wages paid full-time employees for similar assignments with consideration for training and experience. Optional benefits are determined by the employer. These paid positions are most popular within the for-profit business sector. 
Students enrolled in our Field Experience course can be paid or unpaid, these experiences are popular in the government and non-profit business sector.
UW-Stout Data - Cooperative Education and Internship Program Annual Report
WI Employers - Co-op and Internship student wages are considered excluded for Unemployment Insurance purposes if the student is registered for academic credit through the University. Refer to Wisconsin State Unemployment Insurance Statute 108.02(15)j1 at https://my.unemployment.wisconsin.gov/, or call the Wisconsin Unemployment Insurance: Tax and Accounting Department at 608-261-6700.
Housing
Housing arrangements are the responsibility of the student. A number of employers provide assistance, which may be an attractive benefit to applicants.
Hiring International Students
All degree-seeking international students with an F-1 Visa status are eligible for the Co-op and Internship Program. The Office of International Education (OIE) at University of Wisconsin - Stout has been granted authorization by the Department of Homeland Security (DHS) to issue Curricular Practical Training (CPT) for students in F-1 status.
International student employees hired by an employer will provide CPT, (on page 2 of SEVIS Form I-20) documentation stating their eligibility for the approved work period. CPT authorizations are location and date specific. International students in F-1 status, when employed on CPT assignment, are not required to obtain additional or separate work authorization. International Reform and Control Act requirements apply when hiring international students.
For more information, please refer to General Resources I-9 Central available at https://www.irs.gov/individuals/students/students-page-foreign-students
Recruitment Timeline
For Employment to Begin

Start Recruiting

Spring Semester (January-May)
Summer Semester (May-August)

September

Fall Semester (September-December)

January
Career Services is also flexible to meet employer and student needs.  Recruitment Calendar
Get Started – Post Co-op and Internship Positions
To post Co-op and Internship Positions, please utilize UW-Stout Career Services' industry-leading career services technology, CareerLink, to connect our students and employer partners. 
Post professional, co-op, and internship positions at no cost
Request on-campus recruiting interview schedules
Register for campus career career conferences hosted by our office
Connect with our students an alumni 
Sign in or create an account in CareerLink
If you have a position in mind that does not fit these qualifications, please e-mail our Employer Relations Coordinator, Katie Hauge @ haugek@uwstout.edu to determine how you can best partner with UW-Stout.