It's no exaggeration that University Dining has pioneered the recycling and composting efforts across the Stout campus for decades. We are committed to leading the way in waste reduction efforts, and continuously striving to improve. Here are some highlights of what we do:
 
Recycling and Composting
Spearheaded the first expanded recycling efforts on campus in 1991.
Set the standard for campus-wide composting practices in 2010.
Compostable Dinnerware
99% of our non-permanent packaging and dinnerware is entirely compostable, and is available at all of our locations across campus:

 

UDS is continuously seeking an answer to that final 1%.
The Fireside Cafe is our sustainable retail dining location, providing permanent dinnerware to our visitors.
Green To Go Reusable Container & Compostable Containers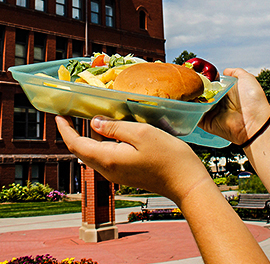 Our Green To Go Program in the cafeterias is offered to all students, faculty, and staff. 
Another option to eat on the run: take it to-go in a compostable container for a nominal fee of 80 cents.
We also incentivize using reusable dinnerware by offering 10¢ off beverage purchases when you bring in your own mug.
Waste Analysis Studies
Waste studies are conducted regularly to raise the awareness of our entire staff, an effort to remain mindful of our responsibilities and minimizing waste.

Patron plate waste analyses
Back-of-house waste analyses
In these studies, all natural non-edible by-products (rinds, bones, ice, etc.) are manually removed to ensure we are truly calculating edible food waste.
Used cooking oils are responsibly recycled to a local farmer to be used for bio-diesel fuel.
Within our administrative offices we recycle all paper products, batteries, laptops, and other electronics. Whenever possible, we send functional electronics to UW-Stout Surplus to be re-used by others.
For many years UDS has chosen EcoLab for our cleaning products and systems. Considered one of the most efficient systems in the industry, EcoLab also minimizes waste by using dissolvable packets instead of plastic containers.