Virtual Family Day | Saturday, April 10th
In lieu of hosting an in-person Family Weekend, we invite you to join us for our Virtual Family Day to celebrate our StoutFam on Saturday, April 10th, 2021!  
We have a number of virtual events that we're offering live that day.   Additionally, we are showcasing some past Family Weekend and student highlights on our website for you to enjoy at your leisure.
We're excited to connect with you virtually and look forward to the day when we can safely host families and guests in-person again.
Schedule of Events
Register for any of our events by clicking on the title of each event.  You'll then be prompted to register on our CONNECT platform and will receive an email confirmation once registered.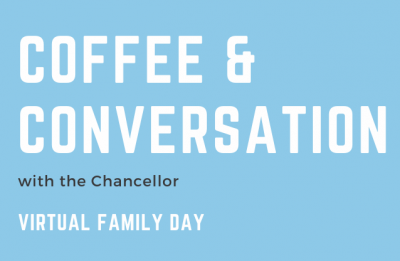 Coffee & Conversation with the Chancellor
10am – 11am
Virtual on Microsoft Teams
Join Chancellor Frank for coffee and conversation.  She will share some of the student highlights and work that she is most Stout Proud of over the past year. The session will then open for Q&A for parents and families.
Stout Secrets Virtual Tours with the University Archives
11am – 12:00pm
Virtual on Microsoft Teams
The Stout campus has been the home of many fascinating people, places, and events. Join University Archivist Heather Stecklein for three mini tours of Stout, including a then-and-now building tour, a retrospective of famous campus visitors, and a full inner tour of the Bowman Hall clock room and bell tower!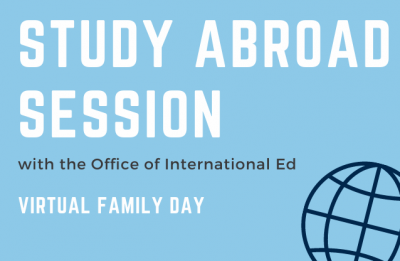 Study Abroad Information Session
11am – 12:00pm
Virtual on Microsoft Teams
Join Andria Morse, Interim Assistant Director of Study Abroad, to learn about opportunities for education abroad.  Get all of your questions answered to help you and your student make an informed decision.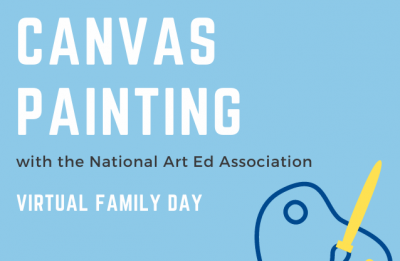 Canvas Painting
1:00 – 2:30pm
Virtual on Microsoft Teams
Everyone can be an artist and our students in the National Art Education Association will show you how.  Join us for a guided painting class as you make your own creation.  Supplies will be provided for up to 50 people (students must make arrangements to pick up).  A supply list is available for families to purchase on their own.  Pre-registration is required, and a limited number of spots are available.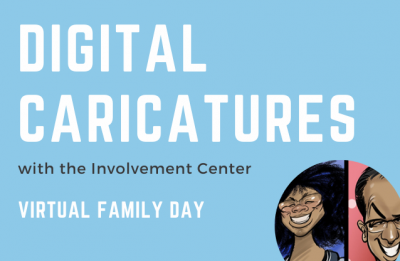 Digital Caricatures
1:00 – 4:00pm
Virtual on Zoom
Family portraits are out….caricatures are in!  Hop on to Zoom to have caricaturist and cartoonist Angel Contreras, draw you and your student!  Be entertained and watch other families being drawn while you wait.  Pre-registration is required, and a limited number of spots are available – register early!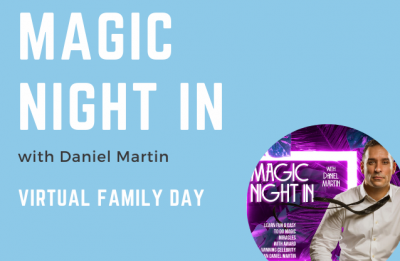 Magic Night In
7:00 – 8:00pm
Virtual on Zoom
For the last decade magician Daniel Martin has traveled the world performing for over a million people live and millions more online.  Spend a Magic Night In with Daniel as he teaches you and your family some of the most amazing magic with items you have around your home.   
We hope you will join us virtually for some of our Virtual Family Day events!
Past Family Weekend and Student Highlights
Take time to explore compilations of past events and creative work over the past year that we've seen from our students.  We are so Stout Proud of the past and current work on our campus.
Fashion Without Fabric
An anchor event to Family Weekend each year, students from the School of Art + Design showcase their fashion works made of anything and everything, but fabric!  We look forward to being able to host this event in the future. For now, take a look at the creativity captured in video.
Past Fashion Without Fabric Recap
4:51 Film Festival
A signature event of Family Weekend, aspiring student filmmakers from across campus are invited to create a short cinematic adaptation of any published piece of literature.  The films cannot be longer than you guessed it, 4 minutes and 51 seconds.
In lieu of holding a 2021 Festival, we have compiled our "Best of" films from 2017-2020.   Enjoy!
4:51 Film Festival | Best of 2017-2020
Band and Choir 
What happens when Wisconsin winter meets Brazilian carnaval celebration, all during a pandemic? You get a new music video for Brazilian artist Paulo Padilha's song, "Outro Carnaval," featuring students and faculty at University of Wisconsin-Stout playing alongside musicians in São Paulo.
Enjoy watching the talent of our students!